>
Is about six miles in length and two in breadth, being bounded on the E. by Allhallows, on the S, by the river Ellen and Cross Canonby, on the W. by the sea, and on the N. by Allonby, West Newton, and Crookdake. The soil about Aspatria is light and red, in some parts sandy, in others loamy, producing in general good crops of wheat and other grain. Oughterside is more wet and heavy, and around Hayton a reddish clay and deep loam prevails. Fine red freestone is found in the parish, and there are some small lakes or tarns on the common; and near to Brayton Hall is a fine sheet of water, resorted to by a great number of wild fowl. The parish contains 8610A. of land, belonging to several proprietors.

It is divided into the three townships of Aspatria and Brayton, Hayton and Melay, and Oughterside and Allerby, which, in 1841, contained a population of 1921 souls, being an increase since 1831, of 526.

Aspatria is a long, but irregularly built village, containing several good houses, on the ridge of an eminence, at the foot of which passes the Maryport and Carlisle Railway, 8 miles E.N.E. of Maryport, and 9 miles N. of Cockermouth. It is supposed to have derived its name from Gospatric, earl of Dunbar, father of Waldeof, first lord of Allerdale, but its township having passed from the families of Lucy, to the earl of Northumberland, is now a manor under general Wyndham.
The Church, dedicated in honour of St. Kentigern, was given by the first lord of Allerdale to the prior and convent of Carlisle. It was formerly rectorial, but is now only a vicarage in the patronage of the bishop of Carlisle, and incumbency of the Rev. Edward Salkeld, M.A. The benefice is valued in the king's books at £10 4s. 2d., and was certified to the ecclesiastical commissioners, as of the average annual value of £100, but is now worth £260 per annum.
The old church being found too small for the rapidly increasing population of this parish, was taken down, and the present beautiful edifice erected on its site, in 1846-7. It is in that pointed Gothic, or early English style of architecture, which prevailed tem1. Edward I, and consists of a nave, chancel, N. and S. aisles, with a handsome tower, (intended for a peal of eight bells) surmounted by a parapet and pinnacles. All the architectural features of the original fabric have been preserved, amongst which are a fine Norman doorway, and a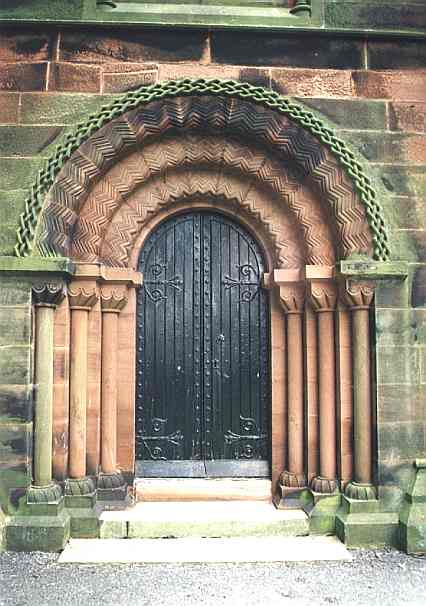 beautiful Norman arch, between the nave and chancel, a view of which may be seen in Sir Walter Scott's "Border Antiquities." The old Norman font is also preserved, and the ancient dormitory of the House of Hayton, and afterwards of the family of Musgrave, is restored. The expense of rebuilding this sacred edifice, and restoring the mutilated shafts of the doorway, &c amounted to nearly £3000, though the original estimate was only about £2,000, the whole of which was raised by the liberal and spirited contributions of the parishioners, except £250, obtained from the Church Building Society, and a few other donations. It occupies a pleasant situation in the village, and contains 600 sittings, of which 370 are free: the east windows and three others are filled with stained glass. The vicarage house is a comfortable dwelling contiguous to the church.
The Independents have a chapel here, built in 1827.
In 1790, a large barrow2 was opened on the summit of the Beacon Hill, about 200 yards north of the village. It consisted of a mound of earth, 90 feet in circumference, and 6 feet deep, under which was a vault or Kistaven, formed with two large cobble stones on each side, and one at each end, and in it were contained the skeleton of a man, seven feet long, a sword five feet in length, the guard of which was elegantly ornamented with inlaid silver flowers. Here were also a dagger, a gold buckle, a gold ornament for a belt, a horse's bit, and parts of a battle axe and spur, all of which were much corroded. On two large cobble stones were various emblematical figures in rude sculpture. It is supposed to have been the tomb of a distinguished warrior, interred about the sixth century, previous to the introduction of Christianity. The poor parishioners receive £10 a year in bread from the bequest of Sir T. Musgrave. In 1845, Mr. Thos. Donald left £500 to the poor of Aspatria and Brayton, the interest to be distributed by the vicar and churchwardens.
Brayton Hall, the seat and property of Sir Wilfred Lawson. Bart., is a beautiful mansion, occupying a pleasant situation, 1½ miles E. by N. of Aspatria, and 7 miles S.W. by W. of Wigton. Brayton estate forms a joint township with Aspatria, and was granted by Allan, second lord of Allerdale, to Ughtred, whose posterity assumed the local name. It was afterwards possessed by the Salkelds, and was sold by three coheiresses to the ancestors of its present owner, whose family was long seated at Isell, but anciently resided in Yorkshire; and derived their descent from John Lawson, Esq., of Fawksgrave, in the reign of King Henry III. Sir Wilfred Lawson married the heiress of Isell, and was knighted by James I. He died without issue, and was succeeded by his nephew, William Lawson, Esq., who espoused the sole heiress of Hesket. Sir Wilfred Lawson, his son, who married the daughter of Sir Edward Musgrave, of Hayton, was created baronet by Charles I. He bequeathed the manor of Isell to his grandson, William, and the manors of Brayton, Bassenthwaite, Hensingham, and Loweswater, to Wilfred. Sir Wilfred Lawson, Bart., son of William, was M.P. for Cockermouth, as also was his son and successor of the same name, whose two sons, Wilfred and Mordaunt, died without issue; after which the estates descended to Gilfred Lawson, Esq , of Brayton, who died in 1749, and was succeeded by his brother Alfred, who died in 1752. Sir Wilfred Lawson, his son, was a knight of the shire for Cumberland, in 1761, and died, unmarried, in 1762, when he was succeeded by his brother, Sir Wilfred Lawson, whose son (the late Sir Wilfred Lawson) much improved the mansion and adjacent grounds, and laid out extensive botanic gardens.
The township contains 3374A. 2R. 4P., rated at £3757 10s., and its population, in 1841, amounted to 988 souls. Aspatria is appointed one of the polling places in the election of knights of the shire for the western division of the county.
Hayton And Melay township contains the neat village of Hayton, 1½ miles W. of Aspatria, 6½ miles N. E. of Maryport, and one mile from the sea. It was granted by the second lord of Allerdale to Seliff, his huntsman, whose posterity took the name of Hayton. It afterwards passed to the Mulcasters, whose heiress conveyed it in marriage to Piers-Jeffrey Tilliol, by whose descendants it was possessed for eight generations, until Nicholas Musgrave, of the Eden hall family, married their heiress. Sir Edward Musgrave, one of his descendants, was created baronet of Nova Scotia in 1638, and embarrassed himself to such an extent, during the civil wars, that he was forced to alienate upwards of £2000 a year of his paternal estate at "Solport, Kirklington, Houghton, Richardby, and Scaleby." He was succeeded by his son, Sir Richard, whose son of the same name served many years in Parliament for Cumberland, and died in 1711. Sir Richard, his son and successor, espoused the daughter of John Hylton, Esq., of Hylton Castle, in the county of Durham; his successor afterwards changed his name to Hylton, on his having been left Hylton Castle by his uncle, in 1746. His daughter and sole heiress was espoused, in 1769, by William Jolliffe, Esq., who was succeeded by his son, Hylton Jolliffe, Esq., whose son, Charles Jolliffe, Esq., is now lord of Hayton manor; but the ancient castle here has long been occupied by a farmer. Mr. Jolliffe and Mrs. Mary Dykes are the principal landowners of this township, which contains 1847 acres, rated at £1818. The rectorial tithes are £244, and the vicarial, £25, as commuted in 1846. Here is a small Methodist chapel, built in 1844.
Melay or Mealhay consists of two farm houses near the sea. Population of the township, in 1841, 378.
Oughterside and Allerby form a township of 555 inhabitants, and about 3000 acres valued at £2710. Oughterside village is situate on the north side of the river Ellen; 1½ miles W.S.W. of Aspatria, and 7 miles N. E. by E. of Maryport. This manor was purchased by Sir Gilfred Lawson, of Charles Orfeur, whose family had possessed it for many generations. There is here an old building which is supposed to have been formerly a place of consequence; and, about 70 years ago, a road, four yards broad, supposed to be Roman, was discovered, leading from Oughterside to Allerby. Allerby, or Alwardby, village, 4 miles E.N.E. of Maryport, is said to derive its name from Alward, father of Dolphin, who first settled here. It afterwards gave name to its succeeding possessors, whose heiress married one of the Porters, of Weary Hall, by whose family it was held of king Henry VIII in capite, paying 3d. cornage, and 8d. seawake. From this family it passed to the Eaglesfields, who, about the close of the last century, sold it to the Lamplughs, of Dovenby; but it now belongs to several freeholders. Robert Eaglesfield, rector of Brough, confessor to queen Philippa,* and founder of Queen's College, Oxford, was born at Allerby. In 1340 he bequeathed all his lands to the college, which was founded for one provost and twelve fellows; to be chosen from Cumberland and Westmorland. To such a benefactor the following beautiful lines from Virgil are truly applicable
"In freta dum fluvii current, dum montibus umbrę,
Lustrabunt convexa, polus dum sidera pascet,
Semper honos, nomenque tuum, laudesque manebunt."
* The principal benefactress of this noble foundation, from whom the College took its name.
Mannix & Whellan, History, Gazetteer and Directory of Cumberland, 1847
>