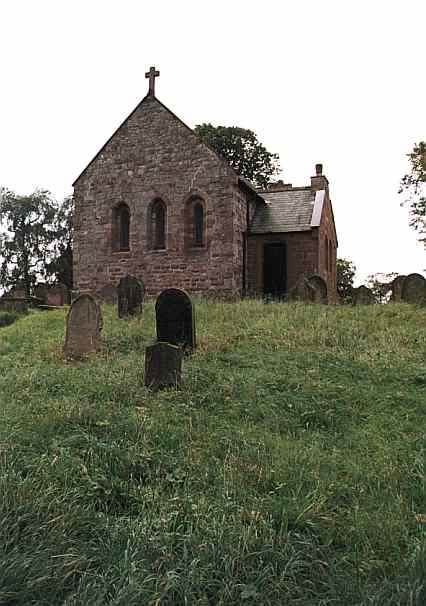 Is about two miles long and one broad, and contains the village of Beaumont, and the hamlets of Monk Hill and New Sandsfield, on the west side of the Eden, four miles N.W. of Carlisle. It contains 288 inhabitants, and 1429 rateable acres of land, chiefly the property of G.H. Oliphant, Esq., Messrs. Wm. Jackson and John Hodgson. The land, which is now nearly all freehold, is generally fertile, and the parish is rated at £1288. 10s. The parish was anciently a manor belonging to the Burns, lords of Bowness, but it became the property of the Dacres in the 14th century, and is now part of the barony of Burgh. Population in 1841, 288.

The church,1 dedicated to St. Mary, is in good repair, and since the year 1692, has served as the parochial place of worship for both this parish and that of Kirk Andrews, where there was once a church, which gave name to the place, but all traces of it have long since disappeared. The earl of Lonsdale is patron of the united rectories of Beaumont and Kirk Andrews, and the Rev. Wm. Benn B.A., is the incumbent, for whom a good rectory house was erected in 1847, in a beautiful situation on the banks of the Eden. The living is worth about £270 a year, part of which arises from land at Sedberg2, in Yorkshire, purchased in 1772, with £200 given by the countess dowager Gower, and £200 obtained from queen Anne's bounty. The tithes of the united parishes were commuted about twenty years ago, for £191 5s. 9d. viz., Beaumont, £134 2s. 9d. and Kirk Andrews, £57 3s. About 30 acres of land, called Priest-Hill, was allotted to the rector at the enclosure of the common, in 1680, but Burn says it has been withheld from the church. This parish is entitled to a share of the interest of £50 left by Thomas Pattinson, in 1785, for teaching poor children.

Mannix & Whellan, History, Gazetteer and Directory of Cumberland, 1847.