>
It is now close on 120 years since the plausible scoundrel whose name was so tragically linked with that of the "Beauty of Buttermere" closed his career on Carlisle Sands, yet their names are still associated; and probably few visitors of that remote hamlet leave it without hearing in some form the story of his villainy.

Although their first meeting did not take place until 1802, at which time Mary Robinson would still only be twenty-five years old, yet her charms had been described in print ten years earlier; for in 1792 there was published a book entitled "A Fortnight's Ramble to the Lakes in Westmorland, Lancashire, and Cumberland, by A Rambler." That Rambler was Joseph Palmer, F.S.A., whose name was originally Budworth, and this is what he said about Mary -

"Her mother and she were spinning woollen yarn in the back kitchen (of the Inn at Buttermere, kept by her father). On our going into it the girl flew away as swift as a mountain sheep, and it was not till our return from Scale Force that we could say that we first saw her. She brought in part of our dinner, and seemed to be about fifteen. Her hair was thick and long, of a dark brown, and though unadorned with ringlets did not seem to want them; her face was a fine oval, with full eyes, and lips as red as vermilion; her cheeks had more of the lily than the rose; and, although she had never been out of the village, she had a manner about her which seemed better calculated to set off dress than adorn her."

I have given long and serious cogitation to that last sentence, in the hope of learning what its learned author meant by it, but have had to give it up. However, he evidently meant it to be complimentary, for he continued -

She was a very Lavinia, seeming
"When unadorned, adorned the most."

"A Rambler" little thought, when he thus casually praised the youthful village beauty, that she would be so prominently known ten years later, and that his words of appreciation would be remembered 130 years afterwards.

John Hatfield was born about the middle of the eighteenth century, at Mortram in Longdale, Cheshire. His parents were in humble circumstances, but he himself possessed great natural abilities, combined with a handsome appearance; his face being oval, his eyes blue, and his complexion fair. In the phraseology of the period, his person and manners are described as having been genteel.

His evil propensities showed themselves early in life; and, leaving home after trouble there, he entered the employment of a linen draper in the North of England, as a "rider," or, as it is now called, a commercial traveller. His career of victimisation dates from that time, when he became acquainted with a young woman, who resided with a farmer in the neighbourhood of his employer.

That young person had been nursed in the farmer's house, and until she was grown up she had been taught to believe that she was living with her parents, but she was then told that they were only her guardians. She was further informed that she was the natural daughter of Lord Robert Manners, who intended to give her £1000 on her marriage, provided that it took place with his approbation.

News of this discovery soon reached the ears of Hatfield, who immediately paid his respects at the farmer's house; where, as he represented himself as having considerable expectations in the wholesale linen business, he was cordially welcomed. In due course he told the farmer that he would marry the young woman, conditionally on her relatives being satisfied with the proposal - this apparently being looked upon as an act of magnanimity on his part; but as her dowry was to be contingent on such approval that is more likely to have been his reason. Be that as it may, one interview was sufficient to ingratiate Lord Robert, who was so taken with Hatfield that on the day after the marriage he presented him with a draft on his banker for £1500. That was about 1771 or 1772.

Hatfield was not long in possession of the £1500 - in those days a much more considerable sum than now - before he betook himself to London where he determined to have his full fling with it. Launching out in the style of a young blood, he hired a small phaeton [open carriage], frequented the coffee-houses in Covent Garden, described himself as nearly related to the Rutland family, and made a vaunt of his parks and hounds.

As soon as the marriage portion was squandered Hatfield retired from London, and was lost sight of for another ten years, when, in 1782, be returned there; leaving his wife and three daughters unprovided for. Soon afterwards she died.

Hatfield had not been long in London this second time, till he was arrested for a debt of £160, and was committed to the King's Bench prison. His propensity for lying and boasting followed him there, and although he knew that several of his fellow-prisoners were acquainted with his character, he continued to describe his Yorkshire park and his estate in Rutlandshire settled on his wife; and generally wound up by observing how vexatious it was to be confined at the suit of a paltry tradesman for so insignificant a sum, at the very moment when he had thirty men employed in laying out a piece of water near the family mansion in Yorkshire.

Among the visitors to the prison was a benevolent clergyman, whom Hatfield soon proceeded to hoodwink. Imploring him never to disclose what he was going to tell him, he repeated his old story about his alliance with the Rutland family, and his various estates, notwithstanding all which grandeur he was detained for the trifling sum of £160. Declaring that he would rather remain a captive for ever than have his situation known to any man excepting his worthy relative his Grace of Rutland, he begged his new friend to call upon the Duke and frankly describe his condition. This the clergyman did, and although at first the Duke had no recollection of such a name as Hatfield, he later remembered having heard Lord Robert Manners say he had married a natural daughter of his to a tradesman of that name in the North of England. Thus rebuffed, the clergymen returned to Hatfield, and lectured him severely; but the result, as that wily impostor had anticipated, was that, when the Duke had identified him, he dispatched a messenger with £200, and had him released.

About 1784, the Duke of Rutland was appointed Lord Lieutenant of Ireland, and it was not long before Hatfield followed him there. On landing in Dublin he engaged a suite of rooms at an hotel in College Green, and represented himself as being nearly allied to the Viceroy, but stated that he could not appear at the Castle until his horses, servants, and carriages which he had ordered to be shipped at Liverpool, should arrive; and again his plausibility carried him through.

Hatfield soon found his way to Lucas's Coffee-house, a place frequented by people of rank; and for about a month the fictions regarding the Rutland family the Rutlandshire estate, and the Yorkshire park, stood their ground very well.

By that time his hotel bill amounted to £60, and some further fairy tales that he told to his host having been proved to be false, he was arrested, and lodged in the Marshalsea prison. There he lost no time in visiting the gaoler's wife in her apartment, and, in a whisper, requested her not to tell any person that they had in custody a near relation of the Viceroy. Astonished at the discovery, the woman immediately showed him to the best apartment in the prison, had a table provided, and she, her husband, and Hatfield constantly dined together for nearly three weeks, in the utmost harmony and good humour.

During this time he had petitioned the Duke for another supply, who granted it, and released him on condition that he immediately quitted Ireland; and, to see that this was done, sent a servant who conducted him on board the packet that sailed the next tide for Holyhead.

Still playing upon the Rutland string, in 1792 Hatfield went to Scarborough, made the acquaintance of several persons of distinction in the neighbourhood, and insinuated that, by the interest of the Duke of Rutland, he was soon to be one of the representatives in Parliament for the town of Scarborough. After several weeks' stay there, at the principal inn, his imposture was again detected by his inability to pay the bill. He departed to London, and soon after his arrival he was arrested for the Scarborough debt, and once more thrown into prison.

After languishing there for eight years, he became known to a Miss Nation, of Devonshire, who paid his debts, took him from prison, and became his wife.

Soon after his liberation he prevailed upon some Devonshire merchants to take him into partnership, and he also induced a clergyman to accept his drafts to a large amount. Upon that foundation he made a splendid appearance in London, and, before the general election, even had the audacity to canvass the rotten borough1 of Queenborough; but in the meantime suspicions arose regarding his character and the state of his fortune. He then retired from the indignation of his creditors, who, in order to bring his villainies to light, had him declared a bankrupt.

Leaving his second wife and two infant children at Tiverton, he visited other places; and it was at that period of his career that he made the acquaintance of Mary Robinson, "the Beauty of Buttermere."

In July, 1802, there arrived at the Queen's Head in Keswick, a handsome and well-appointed travelling carriage, bearing a visitor who announced himself as the Honourable Alexander Augustus Hope, brother of the Earl of Hopetoun, and member of Parliament for Linlithgow. The splendour of his equipage, and the designation on his visiting cards, secured for him a good deal of respect and attention, although there were some persons who doubted his assertions; for although his deportment was showy it was tinged with vulgarity, and his speech was grossly ungrammatical.

There was, however, one circumstance that checked cavilling; he not only received letters under the name he gave, but continually franked letters by that name. As that was not only a forgery - then a capital offence - but was also a forgery on the post-office, and therefore sure to be prosecuted, his credentials were accepted, and he was received everywhere with the distinction attached to the brother of an earl. It need hardly be said that the distinguished stranger was only the versatile John Hatfield, masquerading under another disguise.

While at Keswick, he made the acquaintance of an Irish gentleman, Mr. Nathaniel Montgomery More, who had been residing there for some months with his family; and in their company was a young lady - beautiful, rich, and of good birth. To that gentleman Hatfield introduced himself, and, understanding Mr More had been a military man, he pointed out to him in an army list the name he had assumed - that of the Honourable Alexander Augustus Hope, Lieutenant-Colonel of the 14th Regiment of Foot - which proceeding seems to have carried conviction with it.

Before long he began paying his addresses to the young lady named, and won her consent. The wedding clothes were bought, and everything was in train; but before fixing the wedding day, the fair maiden wisely insisted that "Colonel Hope" should formally approach her friends on the subject. He accordingly pretended to write the required letters, and, while waiting for answers proposed to make a trip to Lord Hopetoun's seat.

To complicate matters, he had by this time discovered the Beauty of Buttermere, to which little hamlet he had gone char-fishing2. Her father, in addition to being a "statesman," and as such farming his own land, kept the village inn; and Mary waited upon his guests.

Although Hatfield made frequent visits to Keswick, where he followed up his suit with great assiduity, he was shy of appearing in public, either there or at Buttermere. When any company was expected at the latter place, he was sure to have some fishing engagement, while at Keswick he only put in one appearance at church; and finally, finding that his schemes to obtain the heiress and her fortune were baffled, he transferred all his attentions to Mary Robinson.

Seeing him received in Keswick society as the scion of nobility that he pretended to be, the good folks at Buttermere never doubted his word; and he and the clergyman having procured a licence on the 1st of October, the marriage took place publicly on the 2nd of October, 1802, at Lorton Church.

Even in those days, and in so remote a place, such a romantic event as the brother of an Earl wedding a simple village beauty in humble circumstances was soon recorded in the newspapers, and from that day Hatfield's fate was sealed. Various people in Scotland who read the account knew that Colonel Hope, who was reported to be the bridegroom, had been abroad all the summer, and was then residing in Vienna; and members of his family were not slow in making inquiries which led to the detection of the imposture.

Meanwhile Hatfield - who, by the way, was more than twice the age of his bride - was keeping up his old practice of replenishing his funds by swindling the unwary. On the day before the marriage, he wrote to Mr. More at Keswick, informing him he was under the necessity of being absent in Scotland for ten days, and sending him a draft for £30, drawn on a Mr. Crumpt, of Liverpool, which he asked him to cash, pay some small debts in Keswick out of it, and send him the balance. This that gentleman obligingly did, and at the same time sent him an additional ten guineas.

On the day of the wedding, George Wood, the landlord of the Queen's Head at Keswick, returned from Lorton, bringing the news that Colonel Hope had married the Beauty of Buttermere. As it was clear that, whoever he was, he had acted dishonourably, suspicions of his character were of course awakened; and the draft was at once remitted to Mr. Crumpt, who promptly accepted it. Mr. More, the friend of the young lady to whom Hatfield had first paid his addresses, also wrote to the Earl of Hopetoun; but before an answer arrived the pretended Colonel Hope returned to Buttermere with his bride. He had only got as far as Longtown when he received two letters, and seemed much troubled because two friends, whom he said he had expected, had not arrived there; and he then told his wife that he would go back to Buttermere.

From that moment Mary was seized with fears and suspicions; but the pair returned to Buttermere, and their having done so was made known at Keswick. It happened that a barrister named Harding - described as "a Welsh judge, and a very singular man" - was passing through Keswick at the time, and, hearing the story, sent his servant over to Buttermere with a note to the supposed Colonel Hope; who observed that it was a mistake - it was for a brother of his. Hatfield's further proceedings were equally unaccountable. Sending to Keswick for a carriage with four horses, he went there, and drew another draft on Mr. Crumpt, for £20, which the landlord at the Queen's Head rashly cashed. Out of this, Hatfield repaid the ten guineas lent by Mr. More, his Irish friend, who thereupon introduced him to the judge as his old friend Colonel Hope.

Hatfield then had the impudence to point-blank deny that he had ever assumed that name, asserting that, although his name was Hope he was not the Honourable Member for Linlithgow; and in that statement he was supported by one of his intimates at Buttermere.

But the evidence against him was too strong, and on the clear proof of his having forged several franks as the member for Linlithgow, Sir Frederick Vane granted a warrant against him, under which he was committed to the care of a constable. He was, however, allowed to fish on the lake, and the natural consequence followed - he escaped, took refuge for a few days on board a sloop off Ravenglass, then went by coach to Ulverston, and later was seen at an hotel in Chester. Meanwhile the following advertisement appeared in the public prints:

NOTORIOUS IMPOSTOR, SWINDLER, AND FELON.

John Hatfield, who lately married a young woman, commonly called the Beauty of Buttermere, under an assumed name; height about five feet ten inches, aged about forty-four, [seeing that he was married for the first time thirty years earlier, he must have been over fifty years old] full face, bright eyes, thick eyebrows, strong, but light beard, good complexion, with some colour, thick but not very prominent nose, smiling countenance, fine teeth, scar on one of his cheeks near his chin, very long thick light hair, and a great deal of it grey done up in a club [pony-tail ?]; stiff square shouldered, full breast and chest, rather corpulent, and strong limbed, but very active; and has rather a spring in his gait, with apparently a little hitch in bringing up one leg; two middle fingers of his left hand are stiff from an old wound; he has something of the Irish brogue in his speech; fluent and elegant in his language, great command of his words, frequently put his hand to his heart; very fond of compliments, and generally addressing himself to persons most distinguished by rank or situation; attentive in the extreme to females, and likely to insinuate himself where there are young ladies. He was in America during the war; is fond of talking of his wounds and exploits there, and of military subjects, as well as of Hatfield Hall, and his estates in Derbyshire and Cheshire; and of the antiquity of his family, whom he pretended to trace to the Plantagenets. He makes a boast of having often been engaged in duels; he has been a great traveller also, by his own account, and talks of Egypt, Turkey, and Italy; and in short has a general knowledge of subjects, which, together with his engaging manners, is well calculated to impose on the credulous. He had art enough to connect himself with some very respectable merchants in Devonshire, as a partner in business, but having swindled them out of large sums he was made a separate bankrupt in June, 1802. He cloaks his deception under the mask of religion, appears fond of religious conversation, and makes a point of attending divine service and popular preachers.

It would have been a pity to have abridged that illuminating description. The man who drew it up must have been a master of his craft, and it casts beams of light upon some of the dark places in Hatfield's career.

On decamping from Buttermere, he left behind him there an elaborately fitted dressing-case, which, when opened at Keswick, was found to be most luxuriously equipped; but nothing was then seen revealing his real name. Later, when Mary herself was searching the case, she found that it had a double bottom, which concealed a number of letters addressed to him by his wife and children under the name of Hatfield, and this completed his detection.

Leaving Cheshire - where he was personally well known, but so effectively disguised himself that he quitted Chester without raising any suspicions - he passed on to Brecknockshire, and at last was apprehended by Bow Street officers about sixteen miles from Swansea, and was committed to Brecon gaol.

At Brecon he declared his name to be Ludor Henry, and boasted that he was the descendant of an ancient Welsh family; but the Bow Street officers took him to London, where he was examined before the magistrates.

It was then proved that the commission of bancruptcy was issued against him in June, 1802; and that, although due notice had been given in the Gazette, and to the prisoner's wife at Tiverton, he failed to attend the last meeting of the Commissioners. Ultimately Hatfield was committed to the Cumberland Assizes, by the name of the Hon. Alexander Augustus Hope, under Sir Frederick Vane's warrant, charging him with felony by assuming to be a member of Parliament, and, as such, franking and posting a number of letters in order to evade postage on them. Other charges, for forgery and bigamy, were mentioned, but were not entered into.

Mary Robinson, who was then likely to become a mother, refused to become accessory to her pretended husband's prosecution, beyond addressing to Sir Richard Ford, the London magistrate, the following letter:

The man whom I had the misfortune to marry and who has ruined me and my aged parents, always told me he was the Hon. Colonel Hope, the next brother of the Earl of Hopetoun.

Your grateful and unfortunate servant
MARY ROBINSON

While under examination in London Hatfield was dressed in a black coat and waistcoat, fustian breeches, and boots, and wore his hair tied behind, without powder; and although he was in deshabille his appearance was respectable. The Duke of Cumberland, and several other gentleman, were present at that examination, in the course of which there was produced a letter from Hatfield to Mr Crumpt, advising him of the bill drawn in favour of Mr. More, as has been mentioned. That letter was signed "A. Hope"; was dated "Keswick, October the 1st, 1802"; and was endorsed - "Free, A. Hope"; and it was proved to have been passed free of postage.

Another letter was also produced, from his wife at Tiverton; and likewise a certificate of his marriage to Mary Robinson.

Hatfield's trial took place on the 15th of August, 1803, at the Cumberland Assizes, before the Honourable Sir Alexander Thompson, Knight, upon three indictments, those being as follows :-

1. With having assumed the name and title of the Honourable Alexander Augustus Hope, and pretending to be a Member of Parliament of the United Kingdom of Great Britain and Ireland, and with having, about the month of October last, under such false and fictitious name and character, drawn a draft or bill of exchange, in the name of Alexander Hope, upon John Crumpt, Esquire, for the sum of £30, payable to George Wood, of Keswick, Cumberland, innkeeper, or order, at the end of fourteen days from the date of the said draft or bill of exchange.

2. With making, uttering, and publishing as true, a certain false, forged, and counterfeit bill of exchange, with the name of Alexander Augustus Hope thereunto falsely set and subscribed, drawn upon John Crumpt, Esquire, dated the 1st of October, 1802, and payable to Nathaniel Montgomery More, or order, ten days after date for £20 sterling.

3. With having assumed the name of Alexander Hope, and pretending to be a member of Parliament of the United Kingdom of Great Britain and Ireland, the brother of the Right Honourable Lord Hopetoun, and a Colonel in the Army, and under such false and fictitious name and character, at various times in the month of October, 1802, having forged and counterfeited the handwriting of the said Alexander Hope, in the superscription of certain letters or packets, in order to avoid the payment of the duty on postage.

The prosecution was conducted by Mr. Scarlett; and the prisoner, who pleaded "Not guilty," had for counsel Messrs. Topping and Holroyd.

The evidence of his guilt was conclusive, the witnesses called being Mr. Quick - a clerk in the house at Tiverton, where Hatfield was a partner - who swore to his handwriting; the Rev. Mr. Nicholson, who testified that when the prisoner was asked his name he said it was "a comfortable one, Hope"; Mr. Joseph Skelton, of Rockliffe, Cumberland; Mr. George Wood, of Keswick, innkeeper; and Mr. John Gregory Crumpt, and Colonel Parke, who were well acquainted with the real Colonel Hope.

In his address to the jury, Hatfield said that for the space of nine months he had been dragged from prison to prison and subjected to all the misrepresentations of calumny; but that, whatever his fate, he would to the last of his life maintain that in all his transactions he never intended to defraud or injure the persons whose names had appeared in the prosecution.

The only witness called for the defence was an attorney at Chester called Newton, who said he was employed by the prisoner at the Summer Assizes in recovering an estate in the county of Kent, rented at £100 per annum. His assignees had sold the estate in question. Witness knew nothing of Hatfields circumstances previous to the recovery of the estate. He had never known the prisoner under any other name than John Hatfield, and the lady he married was called Nation.

In summing up, the judge said that nothing could be more clearly proved than that the prisoner did make the bill or bills in question under the assumed name of Alexander Augustus Hope, with an intention to defraud. If anything should appear in mitigation of the offences with which the prisoner was charged, the jury must give them a full consideration; and though his character had long been shaded with obloquy, yet they must not let that in the least influence the verdict they were sworn to give.

After a consultation lasting about ten minutes, the jury returned a verdict of "Guilty of Forgery."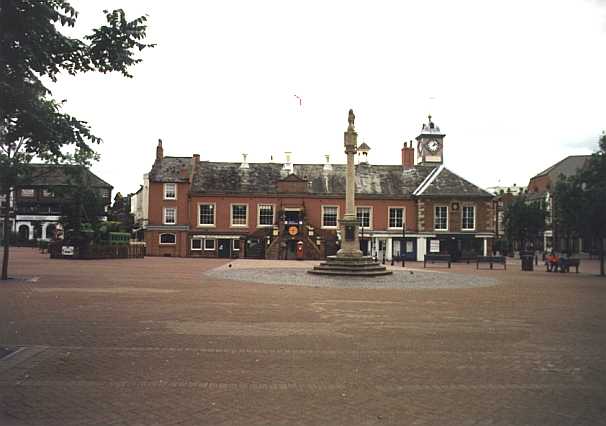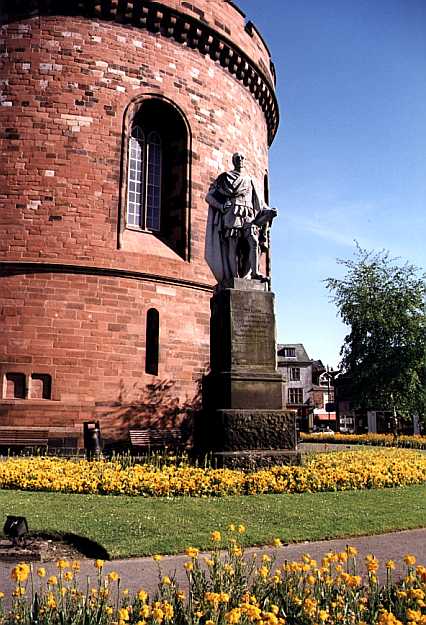 As was customary in those days, before the new Assize Courts were built, the trial took place in the Town Hall. It began about eleven o'clock in the forenoon, and lasted till seven in the evening, when the prisoner was ordered to attend on the following morning to receive sentence; and he was allowed to have a post-chaise from the Town Hall to the gaol.
Next morning, as early as eight o'clock, the Court met again, and Hatfield appeared at the bar; when the Judge pronounced upon him sentence of death in the usual manner.
It was anticipated that the sentence would not be carried out, but, as no reprieve arrived, Saturday, September 3rd, 1803, was fixed upon for the execution. After this lapse of time, it may be of interest to relate at some length what were the proceedings upon such occasions at that period.

During the night preceding the execution the gallows was erected on the Sands3, "an island formed by the River Eden, on the north side of the town, between the two bridges." Soon after ten o'clock on the Saturday morning, his irons having been struck off, Hatfield sent for the "Carlisle Journal"; and, after he had perused it for some time, two clergymen, Mr. Pattison, of Carlisle, and Mr. Mark, of Burgh-by-Sands, attended and prayed with him for about two hours, and drank coffee with him. They left him about noon, and he then wrote some letters; in one of which addressed to London he enclosed his penknife. He shaved himself, at three o'clock dined with the gaoler, and having taken a glass or two of wine he ordered coffee, a cup of which he drank a few minutes before he set out for the place of execution. The last thing he did was to read a chapter from the 2nd Epistle to the Corinthians - a passage he had previously marked out for his lesson before he should mount the scaffold.
The sheriffs, the bailiffs, and the Carlisle yeomanry cavalry, attended at the gaol door about half-past three, together with a post-chaise and hearse. Before being pinioned in the turnkey's lodge, the culprit asked to see the executioner, and presented him with some silver in a paper. The executioner had been brought from Dumfries upon a retaining fee of ten guineas [£10 10s.].
Having taken farewell of the clergyman, who attended him to the door of the chaise, Hatfield mounted the steps with much steadiness and composure. The procession left the gaol at four o'clock exactly, and, passing through the Scotch Gate [the Sands are outside the old city walls], it arrived at the Sands in about twelve minutes. Half the yeomanry went before the carriage, and the other half behind, and on reaching the ground they formed a ring round the scaffold.
As soon as the carriage door had been opened by the under-sheriff, Hatfield and his two companions - the gaoler and the executioner - alighted. A small dungcart had been placed under the gibbet, having a ladder against it, which he instantly ascended. He was dressed in a black jacket, black silk waistcoat, fustian pantaloons, shoes, and white cotton stockings, and was perfectly cool and collected.
He untied his neckerchief, placed a bandage over his eyes, adjusted the rope, which the hangman had not fixed properly, and tied his cap. The rope was completely fixed about five minutes before five o'clock, so that an hour had passed between the time he left the gaol and the moment of execution.
Hatfield was a heavy man, and he expired at once, without any struggle; he was cut down after he had hung about an hour.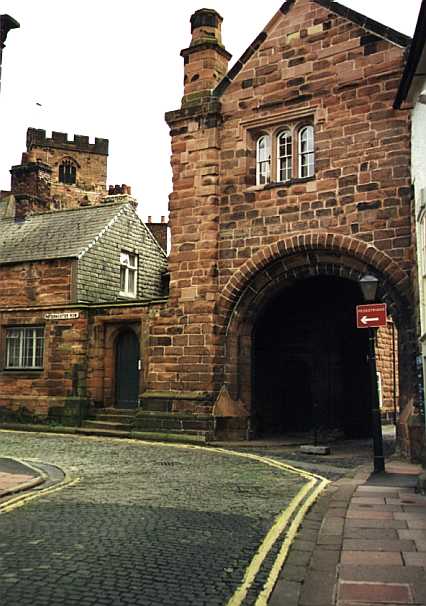 On the preceding Wednesday he had asked for a tradesman, to make his coffin; and, while Mr. Joseph Bushby, of Carlisle, took his measure, he was not at all agitated, but said that he wished the coffin to be a strong one, of oak, plain and neat. It was, however, adorned with plates, "and extremely handsome every way."
Hatfield had requested that he might be buried at Burgh, five miles from Carlisle; but, very naturally, the parishioners there objected to his company, and so, when his body had been placed in the coffin, the hearse conveyed it to St. Mary's graveyard, close by the large northern gate - then the usual burial place for criminals. No priest attended, and the coffin was lowered without any religious service.
It is related that, on the day of Hatfield's condemnation, Wordsworth and Coleridge passed through Carlisle, and then endeavoured to obtain an interview with him - Wordsworth succeeded but for some unknown reason the prisoner refused to see Coleridge.
It was also asserted that the Cumberland jury who brought in a verdict against him declared their unwillingness to hang him for having forged a frank, and were reconciled to that harshness solely by his heartless conduct towards their unfortunate fellow-countrywoman.
"The Beauty of Buttermere" had the sympathy of every one, and before long she was married to a Cumberland yeoman named Harrison, became a happy wife and the mother of a numerous family, and died in 1834.
James Walter Brown, Round Carlisle Cross, 1921
>