Is bounded by the parishes of Ireby, Torpenhow, Allhallows, Westward, and Uldale; and contains 8760 acres of land, belonging to several owners, but general Wyndham, John Watson, Esq., and Mr. Joseph Stead, are the largest. Coal and lime are found in the parish in great abundance; and a copper mine was formerly wrought here, but in consequence of its unproductiveness, has been discontinued. The river Waver takes its rise in this parish, at a place called Catland Fell, a lofty eminence, which commands extensive views of the Solway Frith1, the Scottish hills, and the country around Carlisle, &c. Bolton, Bothill, or Bothilton, was anciently dependant on the barony of Allerdale, till Adam, son of Waldeof, gave it to Robert Bassenthwaite, from whom it passed successively to the Lascells, Mowbrays, Nevils, Percys, and subsequently to the earl of Egremont, so that general Wyndham is now lord of the manor, whose tenants here are mostly customary, paying rents, heriots, and a tenpenny fine, pursuant to a decree in the time of the last lord Latimer; but a few of the farms have been enfranchised. The parish is rated at £59942, viz., houses, lands, and tithes, £5847, and lime and coal, £150. It is divided into two townships, viz., Highside and Lowside, the former of which, in 1841, contained 312, and the latter, 899 inhabitants. The poor receive 12s. every Easter, from Thomas Scott's bequest.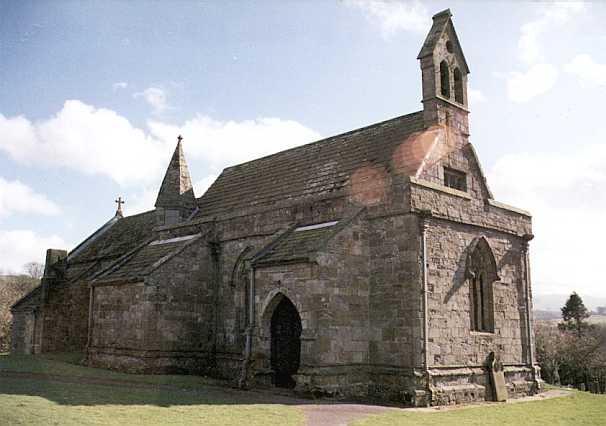 Bolton Gate is a pleasant village in Bolton Highside township, 6 miles S. by W. of Wigton. The church 3 which stands here is an ancient fabric, dedicated to All Saints. The benefice is a rectory, valued in the king's books at £19 18s. 4d. and returned in 1835 as of the annual value of £512. The tithes were commuted in 1844 for £437 11s. 4d. viz., £220 4s. 4d. for Highside, and £217 7s. for Lowside township; the latter apportioned on 4570A. 0R. 8P. including 86½ acres for roads, rivers, &c. The earl of Lonsdale is patron, and the Rev. Henry Lowther, M.A. is the rector.
Bolton Lowside township includes the hamlets of Bolton Wood, Newlands, Thornthwaite Close, Low Houses, and Meals Gate4 with several dispersed dwellings, and a colliery5, distant from three to four miles south of Wigton. Bolton Park, the seat of John Watson, Esq., is a beautiful mansion in this township, erected about seven years ago, by its present proprietor. It occupies a delightful situation, commanding varied and extensive prospects.
Weary Hall, the ancient seat of the Porters, lies in this district, and was the birth place of George Porter, an eminent civilian, and thirty years doctor and professor of civil law, at Queen's College, Cambridge. He died about the year 1630. The hall is now only a farm house, as also is Thackthwaite hall.
Mannix & Whellan, History, Gazetteer and Directory of Cumberland, 1847