Covers an area of about three square miles, containing 2269 acres, of the rateable value of £2500 besides 275 acres of common. The soil is chiefly a fertile sandy loam, especially on the south side of the parish, where the lands descend gradually to the Eden. The principal land owners are Geo. Saul, Esq., Miss Patrickson, John Dixon, Esq., and the Misses Howard. It is part of the Barony of Linstock or Crosby, of which the bishop of Carlisle is lord paramount. The tenants are nearly all customary, and a few are under the earl of Carlisle, and Mrs. Maude. It is divided into four townships, viz., Brunstock, Crosby High, Crosby Low, and Walby, which in 1841 contained 404 inhabitants.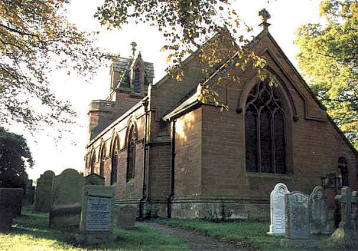 Crosby Low village, occupies a pleasant situation on the Newcastle road, 4 miles E.N.E. of Carlisle. After the barony of Linstock had been given to Carlisle, there was a grange erected here, and called Crosby, on account of its belonging to the church. The present church1, a small ancient building, dedicated to St. John, is about being rebuilt in the pure Gothic style of architecture, at a cost of about £1500, which is to be raised by subscription amongst the parishioners. The benefice is a vicarage, valued in the king's books at £7 11s. 4d., in the patronage of the bishop of Carlisle, and incumbency of the Rev. Joseph Thomlinson. The tithes have not yet been commuted, but are valued at about £250; the living is worth £150 per annum. Adjoining the church yard is a neat school, built in 1844, at the cost of £350 raised by subscription, aided by a grant from the National Society, and the Committee of Council on Education. The school is not endowed, but £16 a year are raised by subscription, for which the master instructs the children of the poor for 2d. a week, each. It is conducted on the national system.
Brunstock, a hamlet and township, three miles N.N.E. of Carlisle. Here stands the beautiful seat of George Saul, Esq. It is in the Gothic style, and the pleasure grounds are very tastefully laid out.
High Crosby is a small village and township, about half a mile east of Low Crosby. The vicarage house, and Crosby House, are in the village. The latter is a fine mansion, the residence of Rev. Thos. L. Hervey.
Walby township is about four miles N.E. of Carlisle.
Mannix & Whellan, History, Gazetteer and Directory of Cumberland, 1847