>
Is of a triangular form, comprising an area of about four square miles, of fertile land, possessing in general a light loamy or gravelly soil, which produces early and excellent crops of wheat, barley, oats, &c. It is bounded on the south by the river Ellen, on the west and north by the sea, and on the east by the parish of Aspatria. Coal and limestone are raised in the parish; and it is stated in Hutchinson, that by implements found in a quarry of the latter, "it appears to have been wrought by the Romans," and it has been conjectured that stone was got here to construct the station at Ellenborough. The parish comprises 2491A. 3R. 27P., rated at £11,782 11s. 8d., and is divided into three townships and one chapelry, which in 1811 contained 5731 inhabitants, viz. Birkley 89, Canonby 59, Crosby 272, and Maryport chapelry, 5311 souls.

Canonby township has a small village of its own name, 3 miles N. W. by W. of Maryport, and contains 507A. 2R. 5P., of the rateable value of £820. 16s. 9d., mostly belonging to H. A. Hall, Esq., Mrs. Dykes, John Currey, and Jeremiah Richmond, Esqs. The Church dedicated to St. John, was given by Alan, second lord of Allerdale, with a carucate of land to the prior and convent of Carlisle, and was soon after made appropriate. It is now only a perpetual curacy, in the patronage of the dean and chapter of Carlisle. The benefice was certified to the ecclesiastical commissioners as of the average annual value of £76. Hutchinson says there are two distinct manors in this parish, the manor of Crosby, or Cross Canonby, and that of Birkby; both of which formerly appertained to the barony of Allerdale, that the manor of Crosby was not severed till the reign of Henry VIII, being transfered to the crown by the sixth earl of Northumberland. In the 37th year of that king's reign, it was granted to Richard Bridges and John Knight, who sold it to Gabriel Highmore. It came at length to the Porters, of Weary Hall, and was sold by George Porter, to the freeholders.

Birkby is quite a small village, 2 miles E. by N. of Maryport, and its township contains only 618A. 2R. 11P. (rated at £1002 14s. 8d.) belonging chiefly to Mrs. Beeby, and Messrs. J. Richmond and W. Ostle. The manor of Birkby became the property of the family of Senhouse, in the reign of Henry VIII, as it has since continued.

Crosby in a pleasant village, 3 miles W.N.W. of Maryport, and its township contains 946A. 1R. 23P., rated at £1273 13s. 5d. Its principal land owners are J. Richmond, Esq., R. Watts, Esq., and the Messrs. Fletcher, Swinburn, Reay, and Harrison. In 1822, Mr. John Nicholson, of Maryport, bequeathed £10 a year to a school here, for the education of 20 poor children belonging to the townships of Birkby, Crosby, and Canonby; each scholar being required to pay only 1½d. per week.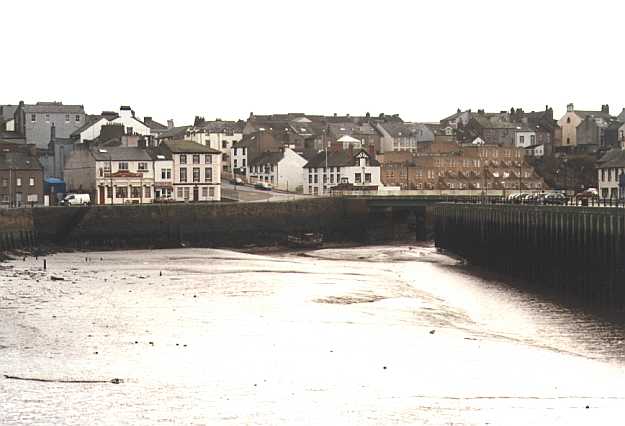 Maryport is a clean, airy, and well-built sea port and market town, occupying a healthy situation at the mouth of the river Ellen, 5 miles N.N.E. of Workington, 7 miles N.W. by W. of Cockermouth, and 28 miles S.W. by W. of Carlisle. A small part of it, called Glasson, is on the south side of the river, in the parish of Dearham. Hutchinson, who wrote in 1795, says "Within forty years last past, this place has risen to importance; being before that time the mere resort of fishermen, who had a few miserable cabins along the beach." Pennant, who wrote in 1774, says "Maryport is another new erection, the property of Humphrey Senhouse, Esq., and so named by him in honour of his lady; the second house was built in 1750. Now there are above 100 houses, peopled by 1300 souls, all collected together by the opening of a coal trade on this estate. For the convenience of shipping (there being about 70 of different sizes, from 30 to 300 tons burthen, belonging to the harbour) are wooden piers with quays, on the river, where ships lie to receive their lading." In 1841, the chapelry contained 1195 houses, and 5311 inhabitants; and the number of vessels belonging to the port, in 1847, was 121, amounting to 15,567 tons. Its principal trade is in the export of coals to Ireland, and the import of timber from America; its weekly shipment of coal averaging 3,800 tons, raised chiefly from the prolific collieries in this neighbourhood. The amount of shipping and tonnage belonging to Maryport, in 1810, was 101 vessels, tonnage, 13580; in 1822, 128 vessels, tonnage, 18495; 1828, 134 vessels, tonnage, 17136; and, in 1840, 113 vessels, tonnage, 13875. This port was formerly under Whitehaven, but the privilege of registering vessels was granted to it in June, 1838. The harbour is now being considerably widened, and the wooden pier, which has been lately extended a long way into the sea, has a light-house on its extremity, with a cast-iron base, put up in 1846. The depth of water, at spring tides, is 15 feet 2 inches. Here are three ship-building yards, where many large vessels have been made for the American, Baltic, West India, and coasting trades; and there are three iron and brass foundries, at one of which, viz., the Valentia foundry, erected by a company of shareholders, in 1846, is manufactured "Betteley & Roberts's patent windlass purchase." The sands near the port are suitable for sea bathing, though the place is not much resorted to by visitors, Allonby being considered a more fashionable watering place.
The Custom House and harbour office was erected in 1838, and the following are the officers: Mr. Thomas Nicholson, collector; Mr. Robert Crelin, comptroller; Mr. C. Fleming, and S. Graham, tide surveyors; and Mr. G. Latimer, and G. Windsor, tide waiters.
The Chapel of Ease was founded in 1760, and, in 1763, dedicated to St. Mary. The benefice is a perpetual curacy, in the patronage of J. P. Senhouse, and incumbency of the Rev. Robert N. Featherstone. It was certified to the parliamentary commissioners as of the average annual value of £102. The present church or chapel, which is a very neat edifice, with a handsome tower, was erected about two years ago; and in 1847, two handsome gothic oak chairs for the altar, were presented to it by Mr. and Mrs. Senhouse. The Catholic Church, dedicated to St. Patrick, is a neat gothic edifice, erected in 1844-5, at a cost of about £1400, and will seat about 400 persons. The altar is an ancient gothic pattern, and the chancel and aisle are laid with ornamental tile. The altar window has a good painting in stained glass, of our saviour, with a globe, and the four evangelists; and in the west window is a small figure of St. Patrick. The Rev. Francis B. Williams is the present pastor. The dissenting places of worship in the town are as follows, viz., the Friends' Meeting House, in King-street; the Scotch Church, in John-street; the Presbyterian Chapel, in Crosby-st., erected in 1831; the Baptist Chapel, in High-street, built in 1834; the Wesleyan Methodist Chapel, in Well-lane, built in 1806: and the Primitive Methodist Chapel, in Kirkby-street, erected in 1839. The National School, now in course of erection, in Eaglesfield-street, will contain about 400 pupils, and will be presided over by a master and mistress. It is also intended to build a house for the residence of the master, and the cost of both is estimated at about £900. The British School, in high-street, was erected in 1845, and now affords instruction to about 120 children.
Among the Provident Institutions of Maryport, is a Savings Bank, established November, 1842, and kept at the Cumberland Union Bank. In November, 1846, its deposits amounted to £6,569 4s., belonging to 351 depositors, 10 Charitable, and 4 Friendly societies. Mr. William Ostle is the treasurer, and Mr. Joseph Mark, actuary. A lodge of Odd Fellows for which there is a Hall in Eaglesfield-st., erected in 1841, at a cost of about £700; a lodge of Free Masons, and one of Foresters, with two sick clubs belonging to the sailors and colliers. The Gas Works, erected here in 1834, at a cost of £3200 raised in shares of £10 each, contain eleven retorts and one gasometer, capable of holding 1200 cubic feet of gas, which is now sold to the consumers at 5s. 6d per 1000 feet, though at first it was 10s. There are 96 town, and 34 quay, lamps. Mr. Thomas Tickle is secretary and manager of the works.
The Mechanics' Institute, Library, and Reading Room, in Catherine-street, formed in 1846, possesses a library of about 100 volumes; each member pays 5s. a year. It is to be hoped that this admirable institution will be favoured with that liberal support from the gentry of the town and neighbourhood which it justly merits, and its importance deserves. Petty sessions are held in the court house every alternate Friday, and the acting magistrates are the Rev. Robert Nicholson Featherstone, and Joseph Pocklington Senhouse, Esq. The market is held every Friday, and the new market-place, called Fleming-square, is, perhaps, the most extensive of any in Cumberland, being about 100 yards in length, and 65 in breadth.
The chapelry of Maryport, which also includes Nether Hall, and Bank End, contains 419A. 1R. 28P., rated at £7971 8s. 8d., the property of Joseph Pocklington Senhouse, Esq., of Nether Hall, who is lord of the manor. This mansion stands at a short distance from the town, on the north bank of the Ellen, and is said to have been formerly called "Alneburgh Hall," being within the manor of Ellenborough, which includes the chapelry of Maryport, and the township of Ellenborough, in Dearham parish. On a hill a little to the west of the hall, are the remains of a large Roman Station, now called Ellenborough Fort. It occupies a square area, surrounded by ditches, and furnished with four entrances. Hutchinson says "It shews, by its open and elevated situation, that it was chiefly calculated for a command of the shore, and to have a wide look out to sea." And Mr. Horsley asserts "that there is no doubt it has been a notitia station1." Mr. Pennant says "Antiquaries differ about the ancient name; one styles it Olenacum, another Virosidum, and Camden, Volantium, from the wish inscribed on a beautiful altar found here. It had been a considerable place, and had its military roads leading from it to Moresby, to old Carlisle, and towards Ambleside; and has been a perfect magazine of Roman antiquities," a considerable number of which have been preserved by the succeeding proprietors at Nether Hall, "where the home and gardens afford a grand display of altars, inscriptions, figures, vases, brass, bone, and iron implements, and other fragments of Roman workmanship." Camden also says "some are of opinion that from hence Stilicho carried a wall, some four miles, for the defence of the coast, in such places as were most convenient for landing; at what time the Scots, from Ireland, infested these parts. For thus Claudian makes Britain speak of herself:
Me quoque vicinis pereuntem gentibus inquit,
Munivit Stilico, totam cum Scotus Hibernem,
Movit, et infesto, spumavit remige Thetis,"
"And I shall ever own his happy care,
Who sav'd me sinking in unequal war:
When Scots came thun'dring from the Irish shores,
And th' ocean trembled, struck with hostile oars."
Not far from the Roman station, is a round tumulus, in which the bones of a heifer, and colt, &c., were found; and at the south-end of the town is an eminence called, Mote Hill, on which is an artificial mound, 160 yards in circumference, and protected by a deep ditch.
Nether Hall has been since the time of Henry VIII the seat and property of the Senhouse family. They are descended from the ancient house of Seascales, in this County, and one of them was bishop of Carlisle from 1624 to 1626. The Railway Station for the Maryport and Carlisle, and Whitehaven junction railways is about half-a-mile from the town, but omnibuses are always in regular attendance on the different trains.
Mannix & Whellan, History, Gazetteer and Directory of Cumberland, 1847
>