>
The widespread fame of John Peel an a foxhunter depends upon a chain of events which have often been related, and little that is new now remains to be told about them. First, of course, is the hero's birth and career, and although these might have survived in a somewhat legendary form during the seventy years that have elapsed since his death, they could in themselves only have been expected to live among the Cumberland fells and dales where he hunted his pack1.

The next link in the chain is the stirring song that carried his name everywhere, and the strains of which - from the forests and fertile cornlands of the Far West to the arid plains of India, and from remote Cumbrian valleys to the lonely Tasmanian hills where, after his life's fitful fever, its erratic author sleeps - are probably never silent. Even that song would have had but a sporadic existence had it not been for the fortuitous incident of its being sung on a long-forgotten festive occasion in Carlisle2; for the late Sir Wilfrid Lawson in his "Reminiscences," edited by the late Right Hon. George W. E. Russell, remarks:

What seemed to me rather strange was that the old Cumberland Song, "D'ye ken John Peel" was not particularly widely known for many years after John Peel died in 1854, but suddenly burst into popular favour and became fashionable in London dancing rooms and in most places of joviality and festivity.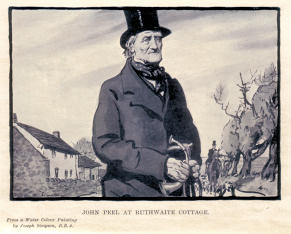 And further, a fillip was given to that send-off by the literary finish which the song received from the hand of one to whom the ballad and dialect lore of Cumberland must for ever be indebted.
To these links has been added another in a striking portrait of John Peel, by Mr. Joseph Simpson, R.B.A., a reproduction of which appears as a frontispiece to this volume.
"Did John Feel ever exist, or is he a mythical huntgod, even as Tom Bowling is an enshrinement of the perfection of a British tar?" That is a question which perennially crops up in newspapers, and which finds its answer in the registers of Caldbeck Parish Church, where he was baptised and married, and in whose sequestered graveyard he now rests.
John Peel, then, was the son of William Peel, a small "statesman" or yeoman, and his wife, Lettice, whose maiden name was Scott. He was born at Greenrigg, a little hamlet in High Caldbeck township; the exact date of his birth being unknown. From the inscription on his tombstone it would seem to have been in 1776, and although the date of his baptism is given in the parish register as 24th September, 1777 that would not contradict the earlier date for his birth; because in those days, and later, it was not at all unusual for bairns to ga' to church i' their clogs to be christened, sometimes two or three of a family at the same time.
In his marriage Peel was as impetuous as in his horsemanship; for having at the age of twenty fallen in love with Mary White, the eighteen-year-old daughter of a neighbouring yeoman at Uldale, he put up the banns in Caldbeck Church; and, when the would-be bride's mother interrupted their dream of bliss by exclaiming, "I forbid the banns. They're far ower young," he borrowed his father's fleetest steed, "Binsey," received Mary from her window at midnight, and bore her off in triumph to Gretna Green. This marriage received the Church's blessing at Caldbeck on 18th December, 1797, and is duly recorded in the parish register there.
His wife inherited from her father a small property at Ruthwaite, near Ireby, and there Peel resided from 1823, until his death on 13th November, 1854. He was buried in Caldbeck Churchyard; and eleven of the thirteen children - six sons and seven daughters - who wore born to them followed him to his grave. Five years later, "Mary, his wife," was laid beside him, she having died on 9th August, 1859: and probably that occasion was the only one since her midnight ride to Gretna Green, sixty-two before, when a foxhunt was deferred on her account. For in his comprehensive "Story of John Peel," published in the "Cornhill Magazine" for October, 1919, Mr. R. B. Lattimer relates of Peel's son, "Young John" - who remained "Young John" till he died in 1887 at the age of ninety - that "A patron was asking him about the arrangements for the coming week, 'Weel,' said Young John, 'we can hunt Monda', an' we can hunt Wednesda', but we can't hunt Tuesda' becos' we're goin' to bury muther.'"
John Peel's personal appearance is strikingly portrayed by Mr. Simpson, and it would seem likely that his picture will in future take place as the standard likeness of the huntsman. Various accounts agree that his stature was over six feet, his frame erect and powerful, his features well chiselled, and his eyes blue and sparkling.
Since the song "D'ye ken John Peel" was first published, Peel's "coat so gray" has been a puzzle to folks who do not know Cumberland; and from time to time northerners have been instructed, sometimes condescendingly, sometimes with ridicule, that this reading in wrong. No M.F.H.3, we are told, could ever have been guilty of following hounds in a coat that was not of pink,
Fellsiders, when tackled in this way, behave as is their wont - they "niver say nowt, but laugh"; except that occasionally some one does make a reply, and an explanation. But it is of no avail, for, as surely as the sun rises in the east, before long we hear of John Peel's "coat so gay." "D'ye ken John Peel in his coat so gay. !" Why, John would not have kenn't hissel'4 in a pink cwoat; and if he had turned up at a "meet" in such a rig-out, I can imagine the astonishment of his followers".
I have been led into this vein by a recent correspondence in that brilliant journal "John o' London's Weekly." Two months ago, a writer on "Songs of our Homeland" chose for his weekly remarks the song "John Peel" and wrote very well about it. This drew from a correspondent a capital letter relating that he had just been reading in "The Random Recollections of a Commercial Traveller" (Sherratt and Hughes, London, 1909) the following -
Bearing on Dicken's "Lazy Tour of Two Idle Apprentices," it is somewhat singular that he should have been so near Caldeck [sic], which is only a mile or so away from Hesket Newmarket, without making reference to John Peel, who died in 1854 at the age of seventy-seven, and whose fame has been perpetuated in the best known of hunting songs.
I have seen a painting of John Peel showing him dressed in the orthodox red coat, but evidently the artist was not sufficiently acquainted with the song, which runs -
Yes, I ken'd John Peel, with his coat so gray,
He lived at Caldeck [sic] once on a day,
But now he's gone and he's far, far away;
And we shall ne'er hear his horn in the morning."
There appears to have been some vigour in hunting in those days. Huntsmen did not wear aprons to keep their breeches elegant and were not taken to the meet in motorcars. John Peel's pack of bounds, so it is stated, cost £40 a year.
The opening line of the original song - " D'ye ken John Peel with his coat so gray" - would have been a better choice, as the example selected is taken from a song that was written some thirty or forty years afterwards. Still it is useful, as displaying that up to that later date, Graves was unrepentant, and still maintained that the coat was gray.
Up to this point there is nothing to quibble about, but much to give satisfaction, as showing what a live force John Peel still is.
How tenacious are the memories that cling round that mighty old hunter! Gone are the Masters of Hounds and their followers of a hundred years ago who hallo'd after packs that have long vanished like the morning dew they brushed aside; their "coats so gay" - call them scarlet or call them pink - like themselves have become dust; clean forgotten are they, one and all, as dead men out of mind. And yet - the marvel of it! here is an obscure yeoman of small estate, hunting a hardy pack, scanty in number but of the best, heading a field of obscure fellsiders; whose fame encircles the world, and whose name rings out in lusty chorus wherever a band of Britons assemble to toast the land of their birth.
However, the old phantom with the pink coat was about due again, and it was forthcoming in a letter, whose writer thinks "that the chief interest lies in the [commercial] traveller's inaccuracy. For, says he
"Yes I ken'd John Peel with his coat so gray," should have been rendered "so gay." Therefore the artist was wholly correct in picturing John Peel in pink - or, as the traveller prefers to call it, "a red coat." Poor Peel would probably have preferred death to turning up in the field in a grey coat !
So that's that !
Of course Cumbrians know that John Peel's coat was gray, and why it was gray, and all about it, but the proof does not always lie to hand when wiseacres state the contrary; so it may be well to place on record here some clinchers wherewith to meet the fallacy of the pink one.
In the first place John Woodcock Graves, who wrote the song, hunted with John Peel continually, and must have known what his coat was like. There are plenty of undoubtedly authentic autographic copies by him, all of which have "gray." Was Graves colour-blind ?
Then the late Sir Wilfrid Lawson, who in 1850 "joined John Peel, keeping a few hounds of his own, the hounds often hunting together," and who, after Peel's death, became the possessor of the entire pack of hounds, wrote
I have seen John Peel in the flesh, and have hunted with him. He was a tall, bony Cumbrian, who, when I knew him, used to ride a pony called "Dunny", from its light colour. . . . Peel's gray coat is no more a myth than himself, for I well remember the long, rough, grey garment which almost came down to his knees.
Lady Mabel Howard, who wrote the article on "Fox Hunting" in "The Victoria History of Cumberland," Volume II, 1905, page 423, there said of him -
I have talked with several people who know this famous sportsman, although I believe is to be true that many still think John Peel had almost a prehistoric existence. As a matter of fact, he died as lately as 1854, having hunted in some form or another for over forty years. There are now several men in Cumberland who followed him and his hounds. They have narrated to me their recollections of the familiar figure: the blue-grey coat with its brass buttons, the white beaver hat and choker tie, the knee breeches, which were joined by a pair of long stockings, and then, most curious of all, the fact that he always wore shoes, to one only one of which a spur was attached.
Finally as all Cumberland folk know, there was an excellent reason why Peel's coat should he gray, for "hodden gray" was the everyday wear of Cumbrians of his class and period, it being woven from the farmers' own wool, a mixture of undyed black and white. It was a mill for that purpose which John Woodcock Graves ran at Caldbeck, and the probability is that he himself wove there the cloth for the "coat so gray" about which he sang.
The picture "John Peel and his Hounds," painted by John Woodcock Graves himself, shows Peel in a long gray coat, and, on Graves's suggestion, Mr. Metcalfe printed a copy of that picture, in colours, on his "John Peel March." In this we have the "coat so gray."
Mr. John Errington, of Carlisle, has written me a letter, which shows the depth of Peel's enthusiasm for anything related to foxhunting. He writes -
My father [the late Mr. Donald Errington] knew Peel, and so did my grandfather, John Errington, who in the early half of last century owned and hunted the Carlisle Harriers. My father told me that on one occasion when the Harriers were in full cry after a hare, in the Scaleby District, a fox crossed the scent, and the pack changed to the fox and killed it - a very big dog fox. News of the kill travelled to Caldbeck, and on the following Saturday Peel came to Carlisle to see the fox, which he inspected in the presence of my grandfather and father. If John Peel was a 'myth' as a hunter, it is evident that he took an interest in foxes, seeing that he came all the way from Caldbeck to Carlisle to view a dead one. The fox was stuffed, and for many years was on the top of the grandfather's clock at home.
The origin of the celebrated song " D'ye ken John Peel," and its evolution to the present well-known version, may he briefly recorded. John Woodcock Graves, its author, in his account written in 1863, says -
Nearly forty years have now wasted away since John Peel and I sat in a snug parlour at Caldbeck, hunting over again many a good run, when a flaxen-haired daughter of mine came in saying "Father, what do they say to what Granny sings?" Granny was singing to sleep my eldest son with a very old rant called "Bonnie (or Cannie) Annie." The pen and ink for hunting appointments being on the table the idea of writing a song to this old air forced itself on me, and thus was produced, impromptu "D'ye ken John Peel with his coat so gray." Immediately after I sang it to poor Peel, and I well remember saying to him in a joking style, "By Jove, Peel, you'll he sung when we're both run to earth."
When the late Mr. George Coward was preparing the volume of "Songs and Ballads of Cumberland" which he edited under the nom de plume of "Sidney Gilpin, of Derwent Cottage," and published in 1865-1866, he sent a copy of the ballad to its author - who was then living in Tasmania, where he died in 1886 at the age of ninety-one, suggesting some alterations which were adopted by Graves. That copy would appear to have been collated by Mr. Coward from various versions; indeed it seems probable that Graves's original ballad was somewhat crude, and that Mr. Coward deserves more credit than he has received for his share in the work. I have not been able to trace an authenticated earlier copy, but the literary merits of Graves and Coward respectively may be judged from one in the dialect made by Graves "near sixty years" after he wrote the song, in which copy the final verse runs :-
Here's to John Peel fra the heart an the soul,
Come fill to him another Bowl
An swear that we'll follow thro' fair an foul
Wheyle we're waked by his horn in the mwornin.
The last line was originally written "While we like a good hunt in the mwornin." The line as printed was proposed by Coward, and approved by Graves, who wrote against it "I like this." Another of Coward's improvements was "D'ye ken John Peel." Graves originally had this "Did ye ken," which was out of keeping with the last verse saying "We'll follow John Peel."
As regards the tune, until the late Mr. William Metcalfe took this in hand the song was monotonously droned over to the air allotted by him to the refrain. After hearing the song sung by the late Mr. William Lattimer, of Holme Head, to the refrain air only, he searched out the original rant "Bonnie Annie," and from that air composed the tune as it now exists.
That was in 1868; and in May, 1869, Mr. Metcalfe was invited to sing his song, then recently published, at the annual dinner of the Cumberland Benevolent Institution in London. It was there that the song got the fillip which puzzled Sir Wilfrid Lawson: for Mr. Metcalfe has often told me that was the send-off which insured its popularity.
If such were the case it had a narrow escape from oblivion, for it was only through Mr Metcalfe's ignoring a Decanal5 order refusing him leave of absence to go to London that the song was sung. I remember some forty years ago seeing Mr. Metcalfe placed in a somewhat embarrassing position in consequence of this. The scene was laid in the late Dean Oakley's drawing-room, after a dinner to Her Majesty's Judges of Assize - Justices Day and Williams - and other magnates.
The Dean had just introduced Mr. Metcalfe to their Lordships when the High Sheriff, postprandially communicative, interjected - "Mr. Metcalfe composed 'John Peel,' my Lord. There was a good joke about that. We asked him to come to London to sing it at the Cumberland Benevolent Dinner, and the Dean and Chapter refused him leave. What do you think he did ? Came without their leave, didn't you, Mr. Metcalfe ?"
As the Dean and three of the Canons were standing by, the predicament was an awkward one; but Mr. Metcalfe, who was a born courtier, adroitly extricated himself by saying - "My Lord, may I be permitted to mention that no present member of the Chapter was then in office?" And thus the situation was saved.
And so we come back to where we began. If John Woodcock Graves had not been inspired to write his famous song, John Peel would have been long forgotten; if it had not been sung by Mr. William Lattimer at the farewell dinner to John Clarkson, William Metcalfe would not have heard it, and so made his setting of the music, his singing of which at the Cumberland Benevolent Institution's dinner in 1869 gave new life to the song; if George Coward had not given to its words the literary finish that has made Metcalfe's arrangement popular wherever the English language is spoken, it would have been confined to the John Peel country; and but for the combination of all these causes Mr. Joseph Simpson would not have painted his portrait masterpiece.
James Walter Brown, Round Carlisle Cross, Series 3, 1923
>