>
This parish is bounded by Aikton, Burgh, Orton and Bowness, and extends over about five square miles of high, but tolerably level land, the soil of which, in some parts, is of a sandy or gravelly nature, incumbent on a rich clay, and in other parts cold clay and moorish earth predominate, especially on the common; but the latter has been greatly improved during the last few years by drainage, and a part is planted with Scotch fir. According to a survey made in 1840, the parish contains 3681A. 1R. 19P., rated at £2868 5s. and its population in 1841 was 536 souls. The parish comprises the three townships of Kirk-Bampton, Little Bampton, and Oughterby.

Kirk-Bampton is a pleasant village, six miles W. of Carlisle, and seven miles N.N.E. of Wigton. The views from parts of this township on a clear day, are delightful. They embrace a large tract of country, with several of the Scottish mountains, Sir John Malcolm's monument1, Gretna, Annandale, the Cheviot hills, Burns' walk2, Criffel mountain &c.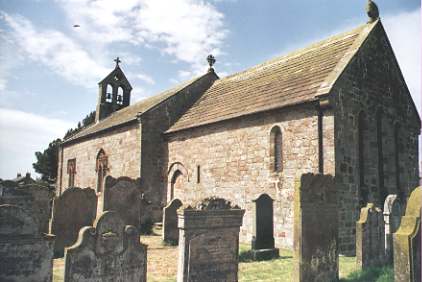 The church, dedicated to Saint Peter, is very ancient, and displays in its chancel arch, which is much admired, a pure specimen of the early Norman style of architecture. The benefice, which is a rectory, valued in the king's books at £14 17s. 11d. pays a pension of 3s. 4d. to the bishop of Carlisle. The earl of Lonsdale and Sir Wastel Brisco are alternate patrons, and the Rev. Wm. Pattinson, B.A. is the incumbent. Formerly the Dacres of Lanercost had a turn in the presentation; and Henry Dacre, Esq. father of Thomas, the last male heir of the family, presented the living to Mr. Story, who was rector for upwards of 60 years, and died in 1739 (old style.) It was augmented a few years since by £452 12s. 4d. from the "Parliamentary Fund," reduced three per cents, and now yielding a half yearly dividend of £6 15s. 9d., so that the living is at present worth about £125 per annum, including 7A. 3R. 20P. of glebe. The tithes were commuted in 1840, for a yearly rent charge of £94 4s. viz., Kirk Bampton township, £16 8s. 1d.; Little Bampton, £67 9s. 8d., and Oughterby, £10 6s. 3d. One moiety of the tithes of Little Bampton, of which Joseph Losh, Esq. is lessee, belongs to the dean and chapter of Carlisle. The village school is close to the church, and there is also a school at Ploughlands, and one at Oughterby. The township contains 1341 acres, rated at £1178 15s. Miss Matthews, James Losh, Esq., Rev. E. Nicholson, Mr J. Barnes, and a few others, have estates here, but Mr. Thomas Hodgson is the largest proprietor in the township, a great part of which belongs to resident yeomen. The whole of this parish is within the barony of Burgh, and was in the reign of Henry II the seat and manor of Sir Hildred de Carliell, between whose two grand-daughters it was afterwards divided into two manors, called Great and Little Bampton, both of which, after passing through various hands, were sold to the tenants. In 1826, a chalybeate spring was discovered in this parish, and there is an excellent spring near Longrigg, a hamlet, one mile west of the village. Flatt3 is another hamlet in this township, one mile and a half S.E. of Kirk Bampton.
There seems to have been numerous defensive works in the parish, against the predatory incursions of the "mosstroopers." The remains of the most considerable of these are situated south of Kirk-Bampton village, on a rising ground commanding an extensive view along the shores of the Solway. It consists of a strong enclosure covering more than 1A. 1R. of ground. The greatest portion of it appears to have been defended by a double rampart of earth and a double ditch; the other portion, which probably was appended to the principal work, was surrounded by a single rampart and ditch. Tradition says that the cattle of the district were driven to this place for protection, on the appearance of the mosstroopers; and in consequence, the work is commonly ascribed to the time of these freebooters. The irregularity of the work favours this supposition, but the discovery of a stone, with the following Latin inscription on it, in the adjoining field, in the year 1843, seems to connect the Romans with this locality -
DEAE
LATI
LUCIVS
VES (rest defaced)
Further examination may probably establish a connection between this and works of a similar character in the neighbourhood; or, at all events, may show that a line of defense, consisting of an earthen rampart and a ditch, extended from it to a considerable distance, as they can be clearly be traced in the adjoining field, which is called "Fold-steads." Not far from this a notorious mosstrooper, called Boothill, was killed in a singular manner. He was found asleep on the ground, by a person of Kirk-Bampton, called Hody, who determining not to let the opportunity slip of freeing himself and neighbours of a formidable enemy, coolly drew the freebooters sword out of its scabbard, and with it severed his head from his body. The body of the Scot lies interred in Kirk-Bampton churchyard, and his grave is covered with a stone, on which is engraved a sword.
Little Bampton is a small village, 2½ miles W.S.W. of Kirk Bampton, and five miles N. of Wigton. Its township contains 1339 acres, rated at £929 10s. Here are several yeomen, and the other principal land owners are Messrs. John Twentyman, John Hewson, Thomas Milton, and Joseph Todd. The township also includes the hamlet of Ploughlands.
Oughterby, containing 1000A. 3R. 2P., rated at £760, has a village of its own name, occupying an elevated situation, 1 mile S.W. of the parish church, and 6 miles S.E. of Wigton. The whole of this township, except 314 acres, the property of Mr. W. Brown, Mrs. Fallowfield, and E. Bell, belongs to resident yeomen. Studholm4 is a small hamlet of four houses in this township, three miles west of Kirk Bampton village.
Mannix & Whellan, History, Gazetteer and Directory of Cumberland, 1847
>