Is a small parish, being only 2½ miles in length from N. to S., and about one in breadth from E. to W. It is situated on the east side of the river Eden, which divides it from Edenhall; is bounded on the S. and S. E. by Kirkland, and on the N. and N. E. by Addingham. It contains only 1397 acres, and 273 inhabitants, and is supposed to have been formerly part of the parish of Edenhall. Timothy Featherstonhaugh is the principal owner of the soil, which is in some parts loamy, and in others, gravelly, but generally fertile. There are 554 acres of common. Langwathby village is five miles N.E. by E. of Penrith. In the records of Westminster it is called Langwaldeofby, and is said to have been given with Edenhall by Henry I to Henry Fitz-Swein. The kings of Scotland held the manor from the reign of Henry III till the defection of John Baliol, when it reverted to the English crown, from which it was granted by William III to William Bentinck, first earl of Portland, in whose family it remained until purchased in 1787, by the late duke of Devonshire, whose successor now possesses it, and at whose honour court at Penrith the tenants do their suit and service.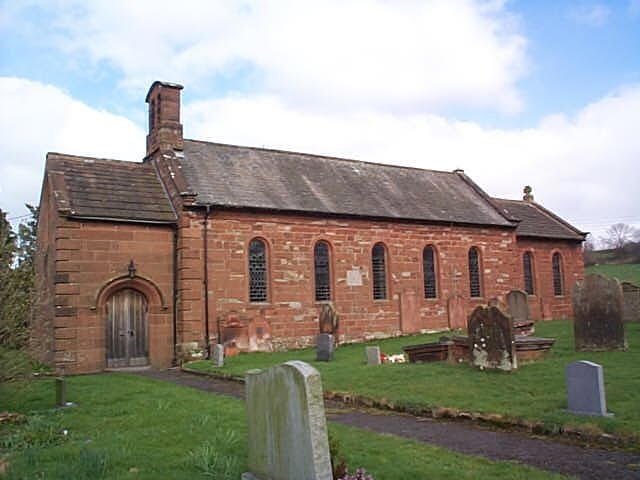 The Church, which is dedicated to the Blessed Virgin, is a remarkably neat edifice. It was built in 1718, by the parishioners, on the site of the old one, but a new porch was erected in 1836. It has a north aisle, divided from the nave by three pointed arches, with plain mouldings, springing from octagonal piers. There is a cross on the porch, and another on the east end of the nave. Dr. Todd says that Edenhall and Langwathby were united in 1380 by bishop Appleby. In the visitation rolls it is called a Vicarage, and is in the same patronage and incumbency as Edenhall, to which it is united. It is not mentioned in any of the ecclesiastical surveys, unless it is alluded to under the title of "The Chantry of St. Mary, in Edenhall." The tithes have been commuted for £167 6s. viz. £143 16s. rectorial, and £23 10s. vicarial; besides which the vicar has twenty-two acres of glebe. Divine service is performed here, and at Edenhall, on Sunday mornings and afternoons, alternately. Near the village is a good bridge of three arches over the Eden, built in 1686.
Charities - In 1702, Christopher Winskell left the interest of £20; in 1760, Joseph Carleton left £20; Mary Powley, who died in 1779, gave £5; and Lough Carleton, who died in 1792, gave £20 for the use of the poor of Langwathby.
Mannix & Whellan, History, Gazetteer and Directory of Cumberland, 1847