>
Is bounded by the parishes of Saint Mary, Burgh, Kirk Bampton, Kirk Andrews, Aikton, Thursby and Dalston, comprises the townships of Great Orton, and Baldwin Holme, and contains 482 inhabitants, and 4630 acres of land, all of which is freehold, consisting chiefly of a clayey soil, with a mixture of gravel. The manor, which was anciently possessed by a family of its own name, was carried by an heiress in marriage to Sir Clement de Skelton; between whose four daughters it was afterwards divided, and from whom it passed by purchase to the family of the present lord, Sir Wastel Brisco, of Crofton Hall, who holds a court here, annually, and receives about £40 a year as lord's rent. Several attempts have been made to discover coal in this parish, but without success. The rateable value of the parish is £2580.

Great Orton township contains 204 inhabitants; the village of Great Orton is five miles W. by S. of Carlisle, and the hamlet of Bow, 1½ mile N. of the village. Sir Wastel Brisco is the largest proprietor of this township; besides whom, and the resident yeomen, the following have estates here, viz. J. Studholme, Esq., the Misses Blaylock, George Robinson, and the trustees of John Moor. From an adjacent enclosure, called Parson's Thorn, no fewer than fifteen churches may be seen in Cumberland, and several in Scotland, with beautiful views of Carlisle, Gretna, and many other places. From the many Roman causeways and other foundations which have been dug up, it is evident that Orton has been at one time a place of much consequence, and most probably a market town. At the extremity of a lane, which extends 300 yards northward from the village, is a large foss, or double ditch, where an iron chain went across the road, and was locked every night, called Barrass Gate, made as a defence against the frequent incursions of the Scots or moss-troopers. The entrance from the east had a similar defence, and the whole parish was enclosed with a ditch and embankment, called the Ringfence, within which was found several years ago, a very curious and neat sandal, buried in the peat moss. Tradition says that on one occasion, a trooper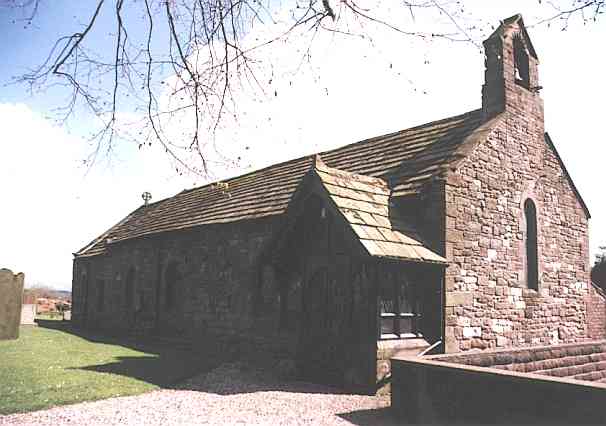 being seen reconnoitring near the Barwise Gate, was nailed to the saddle by an arrow discharged by a yeoman of the name of Wilson, from an immense distance. The church is an ancient structure. The benefice is a rectory in the patronage of Sir Wastel Brisco, and incumbency of the Revd. Robert Pearson, who was inducted in 1845. This living, which in 1795 was valued £140 a year, is, at present, (including about 70 acres of glebe land) worth upwards of £400 per annum. The tithes are now about to be commuted. At a short distance from the church is situated the rectory house, in which is a room where one of the kings of England is traditionally said to have slept. This is the only part of the house still covered with thatch, and one story high, and the inhabitants assign the foregoing incident as the cause of its still being preserved. The door of this room is now 152 years old, being made in 1695. Bishop Nicholson is said to have been born in this room. The old school, near the church, is now used as a Sunday school, and a new school-house has been erected about a mile from the village; the master receives £3 17s. 1½d., as the interest of £100 left by Thomas Pattinson, in 1785, for which he teaches ten poor children of this parish. Richard Dixon was master of this school for nearly fifty years, and styled himself "Happy Dick, " an appellation which was forever afterwards bestowed upon him by the parishioners, most of whom he educated. He died in 1811, and "his long and faithful life" is commemorated by the following inscription on his tomb, ordered by a few of his pupils -
"Seven times seven years he taught this school,
And canvassed many a tedious rule;
Five times seven years, as you may mark,
He served here as parish clerk.
He was a just and upright man,
As far as we his life could scan,
But now he rests beneath this clod,
Till called upon to meet his God."
Baldwin Holme1 township comprises a small village of its own name, 1½ mile S.; the hamlets of Little Orton, 1½ mile N.E.; Orton Rigg, 1 mile S.; and Woodhouses, 1½ mile S. of Great Orton. The latter hamlet is 5½ miles S.W. of Carlisle, and N.W. of Wigton. Hylton Castle, about 2½ miles S.E. of Orton, is also in this township, and is a beautiful mansion, the property of Sir Wastel Brisco, who erected it a few years since, for his son, Hylton Brisco, Esq., who is now an officer in the army. Near to it is a large farm, also recently erected by Sir W. Brisco, who is the principal owner of the soil; but there are many resident yeomen and freeholders in the township, and the family of Twentyman, Blamire, Westmorland, Scott and Williamson, have estates here. It contains 278 inhabitants. Near to Little Orton is a spring of very excellent water, never known to run dry.
Mannix & Whellan, History, Gazetteer and Directory of Cumberland, 1847
>