Edward Davies
Edward 'Ted' Davies, was born in 1879 in Seaton, Workington, and died in 1944 in Workington. He was buried at Harrington Road Cemetery, Workington.
'Ted' Davies was my grandfather, and fourth son to Evan Davies, a Welsh miner and lay preacher.
The Davies family migrated from the coalfields of Merthyr Tydfil in Glamorgan to Workington in about 1878 when a former Welshman owned a mine in Barepot and sent word that there was plenty of work to be had.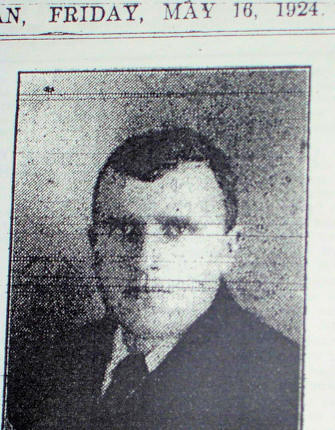 'Ted' went to work at the Moss Bay Rolling Mills in Workington from 14 years of age having been a 'part timer', half the day at school and the other half in employment.
'Ted' became interested in local politics and played a prominent part in the Trades Unionism and in 1914 he was appointed a member of the Executive of the Iron and Steel Workers of Great Britain, and became a Conservative Councillor in 1922 and stood as the Conservative candidate in the 1924 General Election, but narrowly missed the seat against Mr Tom Cape the local Labour candidate. The photograph is from the "Star and Harrington Guardian" of Friday, 16 May 1924. The headline reads… FIRST CONSERVATIVE WORKING MAN CANDIDATE FOR PARLIAMENT. He was the first 'working man' from the industrial heart of Cumbria to stand as a conservative candidate and he continued to be involved in local politics until his death.
From working class roots in the Welsh valleys the Davies family felt education was high on the agenda which resulted in his younger brother, Johnstone Davies B.Sc. becoming a physics teacher in the Workington Technical and Secondary School, and an older sister, Harriet Davies, becoming the head teacher of the Whitehaven Secondary School.
---
31 December 2006
© Brian Davies.