The Churches Of Britain and Ireland
This website has now moved to its own domain - http://www.churches-uk-ireland.org/
The website you are currently visiting will remain available for some time, but won't have new content added.
If you choose to visit the new website, don't forget to update your bookmark!
Steve Bulman

Introduction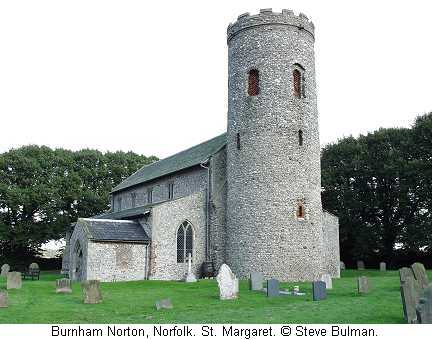 My first web-site, devoted to the history of Cumbria, was developed following contact with fellow genealogists from all over the world who had roots in that most beautiful of English counties. Of all the things people wanted to see, the most requested were pictures of the churches where their ancestors were baptised, married and buried. It occurred to me that there isn't a central resource for finding photographs of the churches of Britain and Ireland - this web-site aims to rectify this omission.
The ultimate aim is to have at least one photo of every existing church in England, Ireland, Scotland, Wales, the Isle of Man, and the Channel Islands, and where possible, photos or artwork of churches no longer in existence.
There are currently over 6300 churches on the web-site, and I think it's only proper to express my sincere thanks to the small army of church enthusiasts who have kindly allowed me to use their photographs, and without whom this would have been a far less comprehensive effort. Thank you one and all.
If you too would like to become involved, here's how you can help -
Take a picture of your local church. Note that photographs of all churches and of all denominations and religions are welcome, not just the historic parish churches.
"Adopt" an area and cover all of its churches.
Identify photos of unknown churches, and advise about the current status of churches featured here from old photos or postcards.
Advise of web-sites with further information on the churches, or of missing dedications for churches already featured here.
On a web-site of this scope, there are bound to be errors, for which I apologise in advance, but I want to hear about them so they can be corrected.
Please adopt a cautious and courteous attitude when photographing old churches or chapels converted to domestic use - the sight of a stranger outside the home with a camera can cause alarm to the occupant.
Before sending your digital photos or scanned photos to myself (address at the bottom of the page) please read the FAQ page, where copyright issues are addressed. DO NOT send in photographs taken from the web, or from books, unless you are certain about their copyright status.
Incidentally, just because a church is already represented here doesn't mean that other photos of it won't be welcome; if you think that your photo has something to offer, send it in.
Regarding copyright - in every case, the copyright remains with the original photographer; anyone wishing to use any of the photos from this site, for whatever purpose, should contact the undersigned, and I will put you in touch with the copyright owner if I can.
Now to the photographs - they can be found either by looking through the county index, or via the place-name index. There is also a page for photographs of churches where the location is unknown. Please contact me if you know where they are.
Each entry in the indices has a link to a photo or photos of the church, and where possible another external link to further information about the church. Towns and villages with several churches are given their own sub-index. Where known, the dedication is included, as is the Ordnance Survey (OS) grid reference which is preceded by the Landranger map number. For those unfamiliar with the latter, full instructions for their use can be found on each OS map. Thus Adderbury in Oxfordshire is given as 151 SP 471 354 - map number 151 and grid reference SP 471 354. As grid references can also be found on-line now, the map number will sometimes be omitted.
Recommendations for further reading are to be found in the bibliography. There is also a Useful Links page, with URL's of many county, denominational and other church related sites.
Contents Summary
---
21 September 2006
© Steve Bulman
steve@stevebulman.f9.co.uk