Views Of Carlisle From the Castle Keep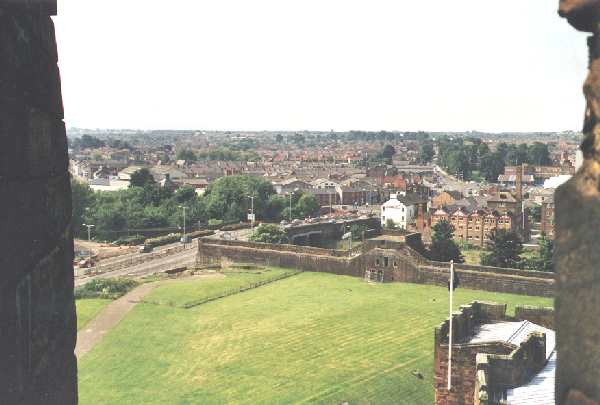 Looking a little further west, this photo shows the Tile Tower, in the centre of the wall, at the limit of the Castle Green. This was built in the time of Richard II. A bridge can be seen to the left of the tower; this crosses the railway, then the River Caldew. The main road dog-legging away into the distance starts with Caldewgate, just over the bridge, leading onto Wigton Road. The white building just over the bridge used to be the office for the Carlisle Brewery (of which more anon.), which stands immediately to its right. These are now student and university buildings. The nearest area of houses, over the Caldew Bridge, includes Caldewgate and Shaddongate. Farther out are the estates of Morton Park (centre) and Raffles (right).
Note the small area of excavations at the left end of the castle wall. This was excavated before the building of foundations for a footbridge currently being erected over the road, from the West Walls.

Walk round the castle keep, admiring the view.
---
29 March 2008
© Steve Bulman
steve@stevebulman.f9.co.uk