Images of Cumbria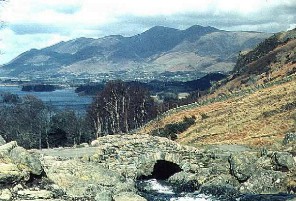 Privacy Policy. This website does not collect any information from site visitors, or create or use cookies or any other tracking code. However, Google Ads, which help to defray some of the expenses incurred in running this site, do use cookies, and will serve adverts based on your previous visits to this and other websites. You can learn more about Google Ads here.

Disclaimer. The webmaster of The Churches of Britain and Ireland is not responsible for the content of adverts, or the content of sites to which links may be provided.

This site has been developed following contact with people world-wide who share my interest in family history, and want to learn more about the place their ancestors called home. In these pages can be found descriptions of Cumberland parishes from a directory dated 1847, photographs from across the county, both modern and from bygone days, stories of Cumbrian life, maps, biographies of Cumbria's famous and infamous sons, and other material from various sources. Where I have quoted from another source (the directory for example), I have done so in the belief that it is out of copyright.

I'd like to include more old photographs of Cumbrian life, not only showing buildings and landscape, but also of people going about their daily lives. If you have any photographs of this nature, and would be willing to share them, contact me via the e-mail address given below.

The copyright of all photographs remains with the photographer. If anyone wants to use one of the images for any purpose whatsoever, they should contact me first at the address given below, and I will attempt to put you in touch with the copyright owner.

Visit my other web-sites too :- The Churches of Britain and Ireland, and Images of Northumberland.

Latest additions:-
17 May 2014
5 September 2010
7 August 2010
22 June 2009
28 March 2009
30 November 2008
23 November 2008
14 November 2008
Updated the Carlisle pubs page.
Worthies added - Abraham Acton, Kevin Beattie, Clement Ellis, William Fox, James Metcalfe, James Hervey Price, Musgrave Lewthwaite Watson, Francis Derwent Wood.
Photo of a corner shop in Ulverston added.

See here.

Tom Iredale added to Worthies.
W.J. Blacklock added to Worthies.
Sheila Fell, John Benson, Norman Nicholson, Thomas Ismay, Stan Laurel, M.E. Nutter and W.H. Nutter all added to Worthies.

John Wilkinson (Ironmaster) added to Worthies.

School Inspector's Report for Dean Free Grammar School, ca. 1864.

School Inspector's Report for Cockermouth School at Brigham, ca. 1867.

Transcribed by Paul Haslam.
---
05 December 2015

© Steve Bulman

steve@stevebulman.f9.co.uk