MANOR OF CROSBY RAVENSWORTH.
Thorphine de Alverstean, son of Uctred, son of Gospatric, is the first lord of the manor of which there is any account. In 1140 he gave the church, with lands in the manor, to Whitby Abbey. He was succeeded by his son, Alan de Alverstain, who reclaimed the church, but afterwards, in 1174, confirmed all previous grants of his father. In 1218 Hugh de Hastings had a grant of free warren in Crosby and Tibbay; he held the manor under John de Veteripont, son of Robert. In 1221, Thomas de Hastings, grandson of Alan de Alverstean, confirmed all previous grants to Whitby Abbey. Also in 1243, this Thomas, who was brother of Nicholas, Lord of Alverstean, again confirmed all former grants.
He was succeeded by Thomas, his son, who freed the monks and their tenants from suit to his mill there, and gave them leave to grind their corn where they pleased. In 1265, William, son of Thomas de Hastings, confirmed all previous grants.
In 1313, Nicholas de Hastings, on the Inquisition post mortem of Robert de Clifford, held this manor, and Nateby, by homage and fealty, and 27s. 2d. cornage. The wardship whereof, when it should occur, was estimated at £40. In 1350, Ralph de Hastings held it in like manner, and in 1423 it was in the hands of Richard de Hastings by like cornage. In 1453 by a feodary it appears that Edward Hastings held Crosby by cornage of 13s. 7d. subject also to wardship, marriage, relief, and suit to the county court; and about the same time Lancelot Threlkeld seems to have held the same of the said Edward. From this time there are no more of the name of Hastings in connection with Crosby. The only relic of this family is a slab which was found in the churchyard, having an incised cross and shield upon it, bearing the arms of the Hastings; which differ from those of the Threlkelds only in colour. The principal residence of the Threlkeld family was at Threlkeld in Cumberland; but they had large possessions at Crosby long previous to this time, for in 1304 and 1320 Henry Threlkeld had a grant of free warren in Yanwath, Crosby, Tibbay, &c., and in 1404 occurs the name of William Threlkeld, Knight, of Crosby. Sir Lancelot Threlkeld, Knight, was the son of Sir Lancelot Threlkeld, by Margaret, daughter and heiress of Henry Bromflatt, Lord Vescy, and widow of John de Clifford. He was wont to say he had three noble houses; one at Crosby Ravensworth for pleasure, where he had a park full of deer; one at Yanwath for comfort and warmth, wherein to reside in winter; and one at Threlkeld, well stocked with tenants, to go with him to the wards. This Sir Lancelot has been buried in Crosby Church beneath the large tomb in the chapel belonging to Crosby Hall. The tomb is solid mason-work, ornamented with flutings on all sides, and on the south side with three blank shields, on which the armorial bearings would probably be painted. On the top is an immense polished limestone slab, without any ornament whatever; but on which it may have been the intention to have afterwards placed an effigy. Above this as a canopy is a low, flat arch, richly moulded, and on the north side enriched at each end with the arms of the Threlkelds, and in the centre the same impaling that of Bromflatt. At a later period the vault beneath was appropriated for the occupation of Robert Lowther, Esq., of Maulds Meaburn Hall, and probably at the same time the tombs underwent some alteration.
Sir Lancelot Threlkeld had three daughters, co-heiresses; one was married to Thomas Dudley, Esq., who with her received Yanwath; the other two married two brothers, sons of Sir Christopher Pickering of Killington, Knight, by his wife Anne, who was daughter and sole heiress of Sir Christopher Moresby, Knight. One received with his wife the Threlkeld property; the other, James Pickering, and his wife Elizabeth, received Crosby. In 1527 this James Pickering held the manor of Henry, Earl of Cumberland, by cornage of 13s. 7d., owing also wardship, marriage, relief, and suit to the county court. He was succeeded by his son, William Pickering, Esq., who in 1532 was an arbitrator in a cause between Guy and Hugh Machell of Crackenthorpe. William was succeeded by his son Lancelot, who lived many years at the Hall. In 1568 he married a daughter of Thomas Blenkinsop of Helbeck; he had two sons, Thomas and James, and several daughters; who were married to different people in the parish, amongst others, some of the Thwaytes, at that time a numerous and respectable family in Crosby. James was bailiff of Crosby and lived at Craik Trees. He died in 1607. His father Lancelot died in 1603, and was succeeded by his eldest son Thomas. He, in the reign of James I sold the manor and part of the demesne to Sir John Lowther, Knight, of Lowther; and thus ended the dynasty of the Pickerings.
About this time there were considerable disputes between the lords of manors and tenants, the lords claiming an absolute estate in the tenements, and the tenants insisting upon an inheritance therein, according to the customs of the manor. The dispute between Sir J. Lowther and his tenants of Crosby Ravensworth was brought to issue in the High Court of Chancery, and a decree obtained in 1624; whereupon a grant was made to the tenants of all the lands upon payment of certain fines. This deed bears date 1629, but for eight years longer the fines remained unsettled. Sir John Lowther was at last compelled to agree and to confer to the tenants their estates to descend according to the common law, except that the eldest daughter or sister should inherit and not all; paying only two rents for a fine, reserving nevertheless the freehold estate therein, and suit of court and mill; but releasing to the tenants all services of ploughing, harrowing, shearing, raking, peat-leading, &c. This dispute lasted about fifteen or sixteen years. Previously and about this time Sir John Lowther and also other lords sold many parcels of land totally free, reserving only the royalties and suit of mill after the twentieth moulter.
About the same time another dispute arose about the cornage, commonly called noutgeld, and serjeant oats or bailiff corn throughout the barony of Westmorland. In 1634 it was decreed that these duties were due to the Earl of Cumberland, and were to be paid according to the following agreement: the cornage was to be paid in money, and Sir John Lowther, escheator-general for the North, regulated the measure of oats. Instead of the old pecks containing eight and ten quarts being up-heaped, they were to pay thirteen quarts straked measure.*
There is a list also of pout-hens collected by the land serjeant. These duties in Crosby parish were as follows:- Cornage: Crosby Ravensworth, 13s. 4d.; Maulds Meaburn, 20s. 2d.; Wickerslack, 2s. 6d. Serjeant oats: Crosby Ravensworth, 44 bushels 3 pecks; Maulds Meaburn, 70 bushels 1 peck. Pout hens: Crosby, 10; Gilts, 9; Harberwain, 6; Maulds Meaburn, 30; Odindale, 7; and Wickerslack, 8.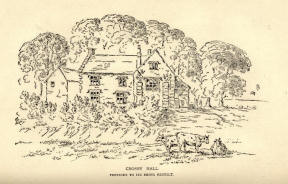 Sir John Lowther gave the manor and estate of Crosby in marriage with his daughter Frances to John Dodsworth of Thornton Watlass, Yorkshire; he had issue John, who succeeded his father about 1659. This John Dodsworth had a son Robert‡, who, it appears, though he lived at the Hall, or at least in the parish, did not succeed his father; for, according to Dr. Burn, John devised the estate to Francis Bayly in 1673, his faithful servant and steward, second son of Dr. Bayly of Penrith. He had issue Margaret Bayly, who was lady of the manor in 1696; and about the year 1700 she sold the whole manor and estate to the Worshipful Richard Lowther, Esq., of Maulds Meaburn Hall.
Black Dub, at the head of Crosby Gill, is the source of the Lyvennet, where, according to Dr. Burn, King Charles II., when he came in with the Scots in 1651, rested, dined, and drank of the water. This is authenticated by the Countess of Pembroke in her memoirs. The entry is that "On August 8th, 1651, His Most Gracious Majesty King Charles II. with his army on his way from Scotland – passed Appleby about 7 miles to the West."
Tradition says that as they were passing over Crosby Fell a shepherd was met with. He was brought to the King, and questioned respecting the locality, and even acted as guide to the army over the moors. His name was Thwaytes, a family then numerous in Crosby. A rustic obelisk has been erected to commemorate the event, and a more vivid description of the place cannot be given than the following, extracted from a provincial paper published at the time.
"This place is one of the most solitary and dreary that can well be imagined, surrounded on all sides by an unenclosed heath; and, since the formation of the road over Shap Fells, seldom seen except by the shepherd or the sportsman. However, it must be recollected, that, though now so still and silent, it was once the great thoroughfare from Scotland through Lancashire, to the metropolis of England. To the solitary passer-by, who now can only hear the sighing of the breeze among the heather, or the bleating of a sheep, it may not be uninteresting to reflect on the noise and clamour that must have prevailed here on the day in question when the neighing of horses, the clang of arms and the shouting of men on a hasty march, (for Cromwell and his victorious army were not far behind), must have made a medley of sounds that can be better imagined than described."
On one side of the obelisk is the following inscription:-
HERE, AT BLACK DUB
THE SOURCE OF THE LYVENNET
CHARLES II
REGALED HIS ARMY ON THEIR MARCH
FROM SCOTLAND
AUGUST 8TH, A.D. 1651
This obelisk was renewed in 1861 at the expense of Mr. Gibson, and besides the inscription on the lateral sides are bas-reliefs, on one side of a crown, for which Charles was ardently striving; on the other side is a lion, which unfortunately came in his way and overthrew his hopes at the battle of Worcester. It has been further commemorated in a poem, "The Lyvennet," by A. Whitehead, and also by Mr. T. Bland, who has sculptured "The Lyvennet Vase," on which the King, dismounted, is receiving a drink from the hands of the presiding goddess of the stream.
* Straked, levelled off at the top, as opposed to heaped measure.

‡ There must be a mistake here, for if this Robert had been a descendant in any degree of John and Frances, he would have succeeded to Thornton Watlass, and lived there. As a matter of fact, the estate went to John's next brother, whose descendants have it still. John Dodsworth was never more than heir apparent; according to the Visitation of Yorkshire in 1665, he was dead, his father was seventy years of age, and he and Frances had had two children, Helen, who died young, and John, then aged sixteen. Hence, when the latter died, his son, if he had one, would be in the direct line of descent. Perhaps Robert was a servant, and had adopted his master's name; as was sometimes done in olden times.
>