whittingham parish comprises the townships of Callaley with Yetlington, Glanton, Lorbottle, Ryle Great, Ryle Little, Shawdon, and Whittingham, and is bounded on the north by Ingram and Eglingham, on the west by Alnham, on the south by Rothbury, and on the east by Edlingham. It is about four miles in length by the same in breadth, and embraces an area of 17,484 acres. Its population in 1801, was 1,465; in 1811, 1,862; in 1821, 1,749; in 1831, 1,790; in 1841, 1,896; and in 1851, 1,905 souls. The parish is very fertile, well enclosed, and cultivated. The tithes were commuted in 1841, award of rent charge, £980, of which £938 is for the township of Whittingham, and £42 for that of Little Ryle, and £686 to the Dean and Chapter of Carlisle, as tithe owners, and £294 to the Vicar of Whittingham.
callaley and yetlington form a township, the property of Edward John Clavering, Esq. It comprises an area of 3,970 acres, and its rateable value is £3,043 14s. The number of inhabitants in 1801, was 327; in 1811, 353; in 1821, 363; in 1831, 303; in 1841, 306; and in 1851, 274 souls. Callaley has been long possessed by a family which bears the local name, and was granted with Yetlington, by Gilbert de Callaley, in the reign of Henry III, to Robert Fitz Roger, Baron of Warkworth and Clavering, an ancestor of the present Claverings, whose ancient family name was De Burgh. John de Burgh, Earl of Comyn, and Baron of Tonsburgh, in Normandy (descended from Charlemagne), "being a general of the Norman army, and governor of the chief towns of that Duchy, accompanied the Conqueror into England, and, having married Beatrix, heiress of Ivo de Vesci, a Norman noble, was father of two sons, Harlowen (who married Arlotta, mother of King William), ancestor of the Clanricarde family; and Eustace, Lord of Knaresborough, ancestor of the Counts de Vesci. Among the most distinguished members of this family may be noticed, Odo, Bishop of Bayeux, and Earl of Kent, who died in 1096; Robert, surnamed De Morton, Earl of Cornwall, who received 793 manors for his conduct upon the field of Hastings; Hubert de Burgh, Earl of Kent, Chief Justiciary of England, so honourably distinguished in the reigns of John, and Henry III, and many others who have been remarkable for their bravery and patriotism. Robert Fitz Roger, Lord Clavering, Baron of Warkworth and Clavering, who died in 1311, was possessed of no less than twenty-five manors in various parts of the country. His eldest son John, who was the first of the family that bore the surname of Clavering, died without male issue, and bequeathed all his manors in Northumberland to King John, who granted them to the house of Percy. His only daughter, Eva, had four husbands, and it is remarkable, that in the short space of six generations, there were amongst her descendants, the following illustrious personages:— "A King of England, a Queen of England, a Duchess of York, a Duchess of Clarence, a Duke of Bedford, a Marquis of Montacute, an Earl of Northumberland, an Earl of Westmoreland, an Earl of Kent, an Earl of Salisbury, the 'King Making' Earl of Warwick, a Lord Latimer, a Lord Abergavenny, an Archbishop of York, and an Earl Marshal of England. And from her descendant, the Duchess of York, sprang the three monarchs of the House of York."
There are several remains of antiquity in this township. At a short distance from the village is a conical eminence called Castle Hill, whose summit, comprising about two acres, is surrounded by a wall, which is further strengthened, in some places, by a deep fosse hewn out of the solid rock, and flanked on the outside by another wall. Down the western brow of the hill are further defences, and the whole area, containing about seven acres, is very difficult of access. It is supposed to have been a fortified Roman Camp. Here is also a lofty hill called the Crag, which is covered with trees to its very summit.
The village
of Callaley is situated two miles west of Whittingham.
Callaley castle
, the seat and property of Edward John Clavering, Esq., is seated in a large and beautiful park, surrounded by picturesque and romantic scenery. The tower at the west end of the mansion bears marks of great antiquity, but the centre and the tower at the east end, have a more modern appearance. Attached to the Castle is a small Catholic Church, erected in 1750. The Rev. Thomas Ord is the officiating priest. There is a school and teacher's house at Callaley Woodhouse, erected by E. J. Clavering, Esq. W. Ternent, teacher.
yetlington, a village and joint township with Callaley, is situated three and a half miles west south-west of Whittingham.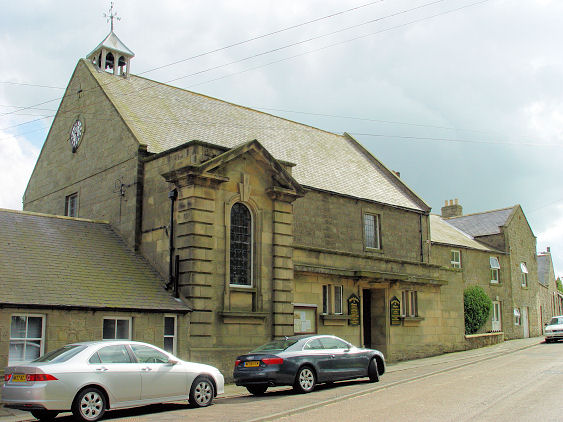 glanton is a township and village, the property of F. J. W. Collingwood, Esq., George Hughes, Esq., Rev. Gilbert Alder, W. J. Pawson, Esq., T. S. Storey, Esq., Ralph Carr, Esq., the heirs of the late W. Tewart, Esq., the Messrs. Allendale, and some freeholders. The township contains 1,329 acres, and its rateable value is £3,038 6s. Population in 1801, 279; in 1811, 433; in 1821, 474; in 1831, 534; in 1841, 592; and in 1851, 601 souls. The lofty eminence called Glanton Pike, was anciently the site of a beacon to alarm the country in times of danger. In the year 1716, as a mason was digging for stone near "Deer Street," in this township, he discovered an empty stone chest, upwards of three feet long. Some time afterwards, three more chests, of a similar form, with covers, were found at the same place. There were two urns and some fine earth in each, with some charcoal and human bones, on which marks caused by fire were plainly discernible. Near these were two other urns, one large, and the other very small; they were of ordinary pottery, and on exposure to the air fell to pieces. the village of Glanton is pleasantly situated, on the high road, two miles north of Whittingham. It possesses some well built houses and shops, and commands a beautiful view of the fertile vale of Whittingham. Here is a Presbyterian Chapel, which was erected in 1783, and possesses sittings for 400 persons. Rev. Duncan Lennie, minister. There is a school attached to this chapel.

powburn is a hamlet in this township, nine miles south by east of Wooler.

lorbottle is a township and hamlet in this parish, comprising an area of 2,409 statute acres, the property of Adam Atkinson, Esq. The rateable value of the township is £1,407, and its population in 1801, was 95; in 1811, 118; in 1821, 100; in 1831, 128; in 1841, 114; and in 1851, 111. the hamlet of Lorbottle is situated on the north side of Lorbottle-burn, four and a half miles north by west of Rothbury. lorbottle house, the seat of the proprietor of the township, is a neat villa occupying a very secluded situation.

ryle (great) is a township and hamlet, the property of the Hon. H. T. Liddell, M.P., and Hugh Taylor, Esq. The township contains 2,113 acres, and its rateable value is £1,407 7s. The number of its inhabitants in 1801, was 111; in 1811, 99; in 1821, 99; in 1833, 94; in 1841, 67; and in 1851, 78 souls. The soil here is principally a strong loam. the hamlet of Ryle is situated three miles west by north of Whittingham.

ryle (little) township is situated seven miles west by north of Alnwick. Its area is 1,056 acres, and its rateable value £568 9s. Population in 1801, 50; in 1811, 49; in 1821, 48; in 1831, 40; in 1841, 42; and in 1851, 21 souls. The Hon. H. T. Liddell, M.P., is the sole landowner. Little Ryle was the villa and seat of the fourth son of Sir Daniel Collingwood, of Brandon, a descendant of Sir Cuthbert Collingwood, of Eslington. This ancient family, so renowned in border warfare, possessed at one time considerable property in this neighbourhood, and often did their followers and dependants repel the

inroads of the Scottish marauders. This township consists of one farm, the homestead of which appears to have been one of those old peels, or towers so numerous on the borders,

shawdon township, situated seven miles west by north of Alnwick, comprises an area of 1,056 acres, and its rateable value is £1,034 13s. It is the property of W. J. Pawson, Esq., and the number of its inhabitants in 1801, was 91; in 1811, 95; in 1821, 77; in 1831, 80; in 1841, 94; and in 1851, 94 souls. In January, 1761, as some workmen were digging in a plantation in this township, they found two Roman urns containing human bones. The urns were of a globular form, about eighteen inches in diameter, and were made of a bluish earth. Near the urns a stone chest, or coffin, was also discovered, and on digging further, the entire foundation of a triangular building, and also a Roman causeway were brought to light. One of those rare and beautiful gold coins, a rose noble of the reign of Edward I, was discovered here in January, 1829. On the impress was the figure of the monarch seated in a ship of an antique form, and bearing on his shoulder a shield containing the arms of England, France, and Ireland, with the legend, " sic ib at per undas." shawdon house, the residence of Mrs. Pawson, is a large and elegant building, adorned with extensive pleasure grounds and plantations. It is said to occupy the site of Shawdon Tower, which has long since disappeared.

whittingham is a township and village in the parish of the same name, the property of Lord Ravensworth. The township comprises an area of 6,103 acres, and its rateable value is £5,489. Population in 1801, 512; in 1811, 715; in 1821, 588; in 1831, 611; in 1841, 681; and in 1851, 726 souls. This township was formerly held in sergeantry of the king by drenage service, but it now belongs to the above-mentioned proprietor. The vale of Whittingham has long been famous for the luxuriance of its soil, the excellence of its culture, and the general beauty of its appearance. On its rich pastures cattle and sheep attain a large size, and its verdant aspect forms a most striking contrast with the adjacent mountains, rocks, bogs, and heath, which comprise the surface of Rimside Moor. Thrunton Mill in this township, occupied by Messrs William and Thomas Swanson, millers, receives its motion from a spring that rises in its vicinity, and which discharges no less than 560 gallons of water per minute. A few years ago three spear heads in a perfect state of preservation were discovered on the Thrunton Farm, they were presented to the Hon. H. T. Liddell, M.P. A stone coffin was also found in the adjoining farm of Low Field.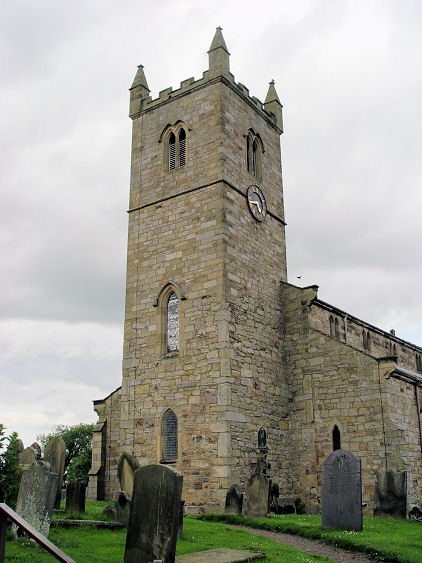 the village of Whittingham is pleasantly situated on the banks of the Aln, where that river is crossed by the Morpeth and Wooler Road, eight miles west of Alnwick. Here is a strongly fortified tower, formerly used by the inhabitants as a place of refuge during the frequent incursions of the Scots. It underwent a thorough renovation, in 1845, at the expense of Lady Ravensworth, and now serves as a retreat for the deserving poor of both sexes. A fair for black cattle, horses, and mercantile goods, is held here on the 24th of August; and there is also an annual flower show held under the patronage of the Hon. H. T. Liddell, M.P. the church, dedicated to St. Bartholomew, is a neat structure, which, since 1840, has been considerably enlarged and otherwise improved. To carry out this object a bazaar was held at Alnwick, in October, 1840, under the most distinguished patronage; the proceeds amounting to upwards of £800. The living, a vicarage in the archdeaconry of Lindisfarne and deanery of Rothbury, is valued in the Liber Regis at £12 11s. 3d., gross income £599. The parish register commences in 1658, and the patronage is vested in the Dean and Chapter of Carlisle. Rev. Richard Goodenough, M.A,, vicar. the vicarage is a neat residence, situated west of the church. whitttingham school was erected in 1850, at the expense of Lord Ravensworth, who contributes £10 per annum for the education of ten poor boys, and Lady Ravensworth subscribes £12 yearly for the tuition of twelve poor girls of the township. The vicar also pays for the education of several of the poorer children. There is a library in connexion with this school; it is under the patronage of the Hon. H. T. Liddell, M.P., contains 300 volumes, and is supported by subscriptions. William Ternent, schoolmaster and librarian, Ann Ternent, schoolmistress.
eslington is a hamlet in this township delightfully situated about two miles west of Whittingham. It was formerly the villa and manor of a family which bore the local name, but we find that a mediety of it was possessed by one of the Heselrigge family in 1413. It was afterwards the property of the ancient family of Collingwood, who held it till the attainder of George Collingwood, in 1715, when it was purchased by Colonel George Liddell, a younger son of Sir Thomas Liddell, of Ravensworth, who left it to his nephew the late Sir Henry Liddell, whose son Sir Thomas Henry Liddell, who was created Baron Ravensworth in 1821, is the present possessor. eslington house, the residence of the Hon. Henry Thomas Liddell, M.P., is an elegant freestone structure, in a modern style of architecture, erected in 1720, and is situated in a beautiful lawn, surrounded by handsome pleasure grounds, through which the Aln flows. From the north side of the house extensive views of the fertile vale of Whittingham, and the surrounding country may be obtained.
thrunton is another hamlet in this township one mile and a half southeast of Whittingham.
charity. - Matthew Hedley by his will dated 6th March, 1827, gave to the churchwardens of Whittingham £100, to be laid out by them in government securities, and the interest given to the poor of Whittingham every Christmas-day for ever.
William Whellan & Co., History of Northumberland, 1855